3 men killed in plane that crashes in Calif. bay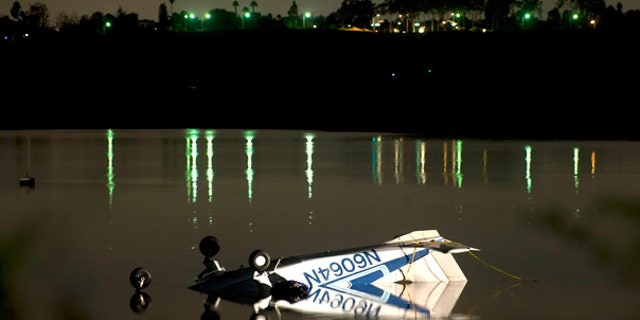 NEWYou can now listen to Fox News articles!
NEWPORT BEACH, Calif. – A single-engine plane crashed into a bay surrounded by homes Sunday and came to rest upside down in shallow water. Authorities said all three men aboard were killed.
Before they received reports of trouble, firefighters in Newport Beach saw the plane, a 1968 Beechcraft Musketeer, flying low shortly before 6 p.m., Fire Division Chief Paul Matheis said.
"It flew over one of our stations at about 50 feet," Matheis said. "They could tell that there was trouble."
The firefighters followed the plane, found it upside down in Upper Newport Harbor, and tried to perform a rescue, Matheis said.
"It was too late," he said. "The three inside did not survive the crash."
The victims were all men, Matheis said. Their names have not been released.
The plane had taken off from an unknown point in Mexico and was bound for Torrance, FAA spokesman Ian Gregor said.
The pilot had reported problems to nearby John Wayne Airport before he went down, Matheis said.
The plane did not come close to any of the many homes that surround the bay, Matheis said, and believed the pilot was deliberately heading for the water and away from houses.
"If I was guessing I'd say he did a good job of avoiding anything like that," Matheis said.
Officials from the FAA and the National Transportation Safety Board were investigating the crash, Gregor said.