3 killed in Indianapolis camp bus crash, officials say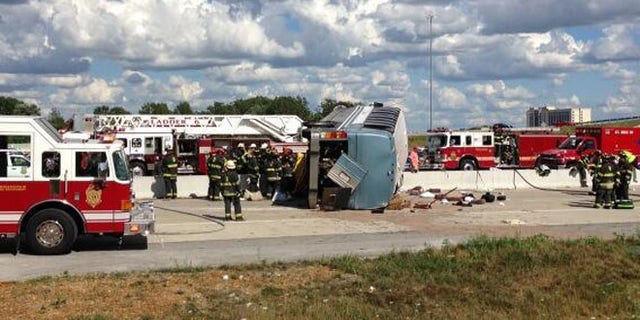 Three people were killed and 26 others have been hospitalized after a bus carrying teens coming home from a church camp struck a retaining wall on a busy Indianapolis interstate and flipped on its side.
Indianapolis Fire Department Lt. Ato McTush said the dead included a man and a woman. He did not have information about the third victim. Fox59.com reported that two of the three dead are a married couple.
Witnesses said the bus came off the interstate at a high rate of speed Saturday afternoon, struck a retaining wall as it tried to round a curve and overturned. WTHR-TV reported the bus driver told witnesses his brakes failed.
According to Fox59.com, the bus was carrying 37 passengers who are members of Colonial Hill Baptist Church in Indianapolis. The Fire Department said those injured included children and adults. Five people were treated and released at the scene.
The church's youth pastor had sent a tweet a couple of hours before the crash saying the group was expected to arrive at the church about 4:15 p.m., around the time the accident happened.
"They were not that far from home. That only adds to the tragedy," said Indianapolis Public Safety Director Troy Riggs.
An Indiana Department of Transportation camera showed the bus overturned on its side near an Interstate 465 overpass. The Indianapolis Fire Department said crews had to free five people who were trapped inside after the crash. Four good Samaritans helped before first responders could arrive, including one man who helped pull the driver out, the agency said.
Duane Lloyd told WTHR that he heard a loud noise behind him as he was traveling near the intersection and saw the crash around 4:15 p.m.
"I heard a skid. I looked back. I see this bus in the air and people falling out of the bus," Lloyd said. "I could have gone my whole life without seeing that."
Karen Woodard, a member of Colonial Hills Baptist Church, cried as she stared at the wrecked bus surrounded by pillows, water bottles and clothing.
"It's so terrible. I can't believe it," she said.
Jeff Leffew, 44, of Fishers, had sent four daughters to Camp CoBeAc, near Prudenville, Mich. Just one of his girls was on the bus that pulled into the parking lot, and he raced to the crash site in northern Indianapolis. What he found was a surreal scene, with clothing and other items strewn about and windows missing from the bus.
"You're just praying that it's not as bad as it looks," said Leffew, a deacon at the church.
Leffew's daughters escaped with just bumps and bruises, but others weren't as fortunate. Indianapolis fire officials said a husband and wife were dead at the scene, along with a third person whose age they didn't describe. Twenty-six other people were taken to area hospitals, including at least one teenager in critical condition.
Indianapolis Public Safety Director Troy Riggs called the crash a "great tragedy."
"They were not that far from home. ... That only adds to the tragedy," Riggs said at the crash scene.
He said there was no indication that the driver had a medical emergency.
Indianapolis Fire Department spokesman Capt. Rita Burris said survivors were taken to area hospitals. Some of the victims were taken from the scene by helicopter.
Roads near the scene were closed, and authorities were urging people to use caution in the area. A hazardous materials crew was in the area cleaning up diesel fuel that spilled in the crash.
Families of the bus passengers gathered at the church Saturday evening to comfort each other and pray.
Mayor Greg Ballard described many as "remarkably positive" despite their sorrow but said there will be difficult days ahead.
Outside the church, a yellow school bus with the church school's name was parked outside with piles of sleeping bags and suitcases nearby. Families hugged outside and talked quietly before going inside, where they met with Ballard and Riggs Saturday evening.
"Some of the teenagers are hurting pretty bad and you can see that in their faces," Ballard said.
The Associated Press contributed to this report.