Execution of Pennsylvania search warrant turns up heroin, crack, alligator: police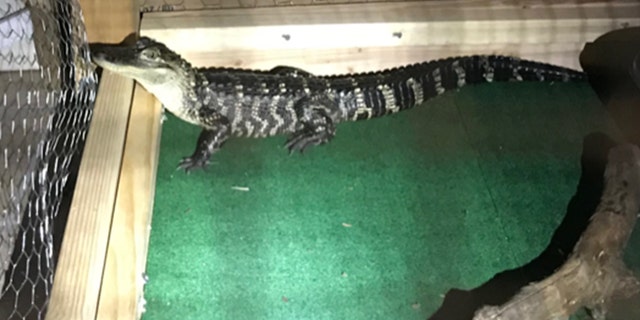 A roughly 3-foot long alligator is moving to the zoo after it was discovered in a Pennsylvania home last week while law enforcement was executing a search warrant, authorities said Thursday.
The creature was located in a South Coatesville, Pennsylvania, residence on Friday, along with heroin, suspected fentanyl, crack cocaine and marijuana, the Chester County District Attorney's Office said in a news release.
FLORIDA WOMAN CATCHES 10-FOOT ALLIGATOR 'POUNDING' ON HER FRONT DOOR: 'THAT'S WHEN I RAN'
"Police also found material for packaging and selling drugs, as well as over $5,000 in cash," officials said.
When we execute a drug search warrant, we never know what we will find. Sometimes it is an armed drug dealer. Sometimes it is the drug dealer's terrified family. On this day, it was an alligator.
Three individuals at the home -- Irvin "Gotti" Hawkins, 31, Aki Gathright, 35, and Tyrone Jackson, 40 -- were brought to Chester County Prison, according to the news release. All three were charged with drug trafficking and related offenses.
"Defendants Hawkins, Gathright, and Jackson were all at the residence and all were in actual or constructive possession of drugs and drug paraphernalia," the news release said.
CLICK HERE TO GET THE FOX NEWS APP
The reptile – which was found in the kitchen – was transferred to Brandywine Zoo in Delaware, where it'll stay on as "an educational animal this summer," officials said. The animal will later move to the St. Augustine Alligator Farm and Zoological Park in Florida.
"When we execute a drug search warrant, we never know what we will find. Sometimes it is an armed drug dealer. Sometimes it is the drug dealer's terrified family. On this day, it was an alligator," Chester County District Attorney Tom Hogan said in the news release. "As usual, Chester County law enforcement dealt with the situation professionally, efficiently, and humanely. We are lucky to have such strong law enforcement in Chester County."