$250G in heroin seized, 5 arrested in Massachusetts anti-drug raids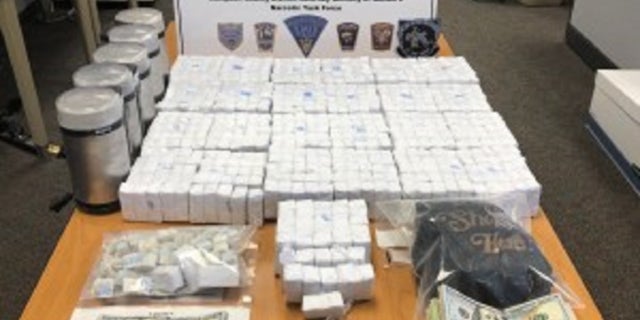 NEWYou can now listen to Fox News articles!
Massachusetts State Police seized approximately 50,000 bags of heroin worth more than $250,000 in a series of raids carried out this week in Hampden County – roughly 95 miles west of Boston -- that also resulted in five arrests.
Intelligence about a possible large shipment of drugs coming into the area led officers to pull over a vehicle early Tuesday morning after authorities witnessed a narcotics transaction take place at a storage facility in Chicopee, Mass., police said in a statement.
K-9 units helped officers locate "400 grams of raw un-cut heroin (approximately 20,000 bags) with an estimated street value of over $100,000," as well as roughly 600 bags of heroin ready for the streets and approximately $12,174 in U.S. currency, Boston's Fox 25 reported.
Fidel Gil, 41, of Hartford, Conn., and Paola Mercedes Reyes-Desantos, 23, address unknown, were arrested and charged with drug trafficking and conspiracy to violate narcotic laws.
"Aggressively fighting the opioid epidemic by disrupting and dismantling drug trafficking organizations here in Hampden County continues to be at the center of our two-pronged attack on the opioid epidemic," Hampden District Attorney Anthony D. Gulluni said in a statement.
Gulluni applauded the work of law enforcement and vowed to "to prosecute drug traffickers to the fullest extent of the law while assisting those afflicted with addiction in finding the help and treatment they need."
Following the arrests, authorities executed six search warrants on two locations that same day that resulted in approximately 1,900 bags of heroin and $1200 dollars being seized at a motel and vehicle in West Springfield, and approximately 30,000 bags, (approximate weight of 750 grams) valued over $150,000 at a self-storage facility.
Three additional people were arrested in those raids: Christian Rivera, 22, of Springfield, charged with trafficking heroin in excess of 200 grams, possession of ammunition without a firearms identification card, and possession of marijuana with intent to distribute; Cassandra Cardona, 21, of Springfield, charged with possession of marijuana with intent to distribute; and Anthony Guadalupe, 22, address not known, charged with trafficking heroin between 18 and 36 grams and trafficking heroin in excess of 200 grams.
All five suspects were to be arraigned Wednesday in Springfield District Court, MassLive.com reported.
More charges may follow, Gulluni told the news outlet.