2 slain Ohio officers' families thank community for support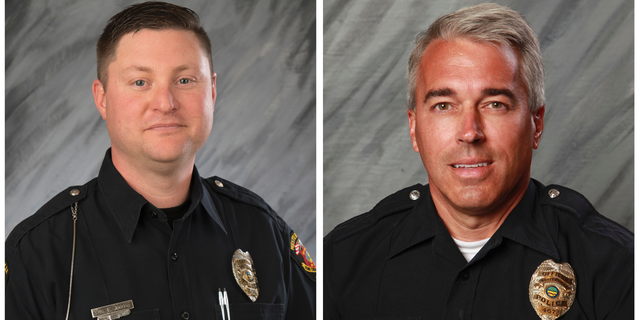 COLUMBUS, Ohio – The families of two Ohio police officers fatally shot while responding to a 911 hang-up call have expressed their gratitude for their community and for the outpouring of support shown in the midst of their loss.
The officers from the northeast Columbus suburb of Westerville, 39-year-old Eric Joering and 54-year-old Anthony Morelli, were shot Saturday at a townhome where the suspect was wounded.
In a statement released late Monday, the officers' families requested privacy and said they need time to heal.
"We have seen and heard so much from people who have shared stories about how our men impacted their lives. They will be so greatly missed, not only by us, but by everyone they touched," the statement said.
Westerville police tweeted their own appreciation Tuesday.
" 'Thank you' does not seem adequate to express what we want to convey to our community, our law enforcement brothers & sisters, and the businesses and people across the US who have shown their support and love to us. We are forever changed," the tweet said.
A combined funeral will be held for the officers Friday afternoon at St. Paul Catholic Church in Westerville, police chief Joe Morbitzer said Tuesday. The City of Westerville will livestream the event.
The chief also announced that arrangements are being made for Joering's police dog to remain with the officer's widow and young daughters.
The wounded suspect, Quentin Smith, 30, is expected to survive. He has been charged with aggravated murder. Court records didn't show an attorney for him.
A man accused of providing Smith with the gun used in the killings was arrested Monday.
Gerald Lawson, 30, of suburban Cleveland, was charged with aiding and abetting the possession of a firearm by a prohibited person. He's accused of buying the gun for Smith, a close friend, last summer.
Lawson was scheduled for a bond hearing Wednesday in federal court in Columbus. Court records don't list an attorney for him.