2 roads, bridge remain closed due to Mt. Shasta mudslide triggered by melting glacier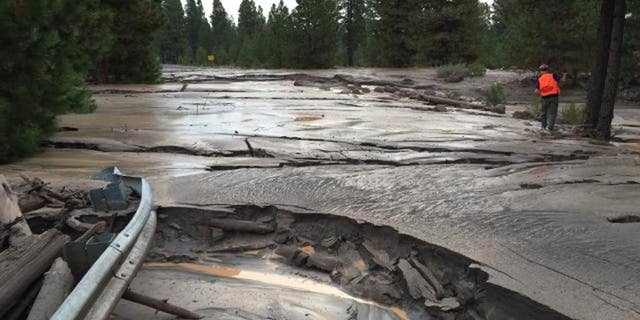 NEWYou can now listen to Fox News articles!
MOUNT SHASTA, Calif. – U.S. Forest Service crews on Mount Shasta were dealing Monday with mud flow from a melting glacier that covered two roads and a bridge in muck, logs and rocks and forced a mountain creek out of its banks.
Mount Shasta's Mud Creek — pushed out of its channel by Saturday's mud flow — was flowing instead Monday over one of two Forest Service roads that have been made impassable by the weekend surge of wet earth and debris, U.S. Forest Service spokeswoman Andrea Capps said.
Road crews worked Monday to clear the road of a thick layer of mud and unplug a bridge dammed by debris and mud, Capps said.
Saturday's mud flow happened when a tip broke off a glacier midway up Mount Shasta. Most of the mud, trees and rocks stayed within the channel of Mud Creek except when the mud flow hit bridges or other obstacles, Capp said.
"It's not really wide but there's mud, rocks, trees," she said. None of the boulders were too big for bulldozers to move, she said.
No injuries or damage to homes were reported. Residents of the nearest community — a small, off-the-grid subdivision on the mountains — were able to use other roads to reach their neighborhood, authorities and local residents said.
A few miles down the mountain from the slide, some in the 1,400-resident town of McCloud used binoculars Monday to keep track of a pool of melting water visible on the surface of the glacier, said Darlene Mathis, who operates the McCloud River Mercantile Hotel. The weekend mudslide had come near to the pipe that supplies water for McCloud, Mathis said.
Meteorologists say California's three-year drought contributed to the melting of the glacier. While the Mud Creek area and other parts of Mount Shasta have a history of mudslides, the weekend flow was the largest in decades, the U.S. Forest Service said.