2-month-old missing from Oklahoma hospital found in Dallas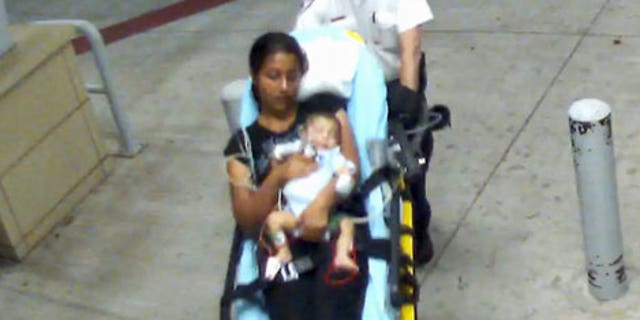 A 2-month-old boy who vanished from an Oklahoma City hospital last week has been found at a Dallas hospital, police said.
According to the Dallas Morning News, the baby's relatives took the infant to a hospital in Dallas on Saturday, one day after the child disappeared from Children's Hospital in Oklahoma, about 200 miles from Dallas.
The baby disappeared, believed taken by at least one parent, while being treated for possibly serious injuries, KFOR-TV reported.
It is not clear what injuries the baby may have, but investigators wanted to find the boy and make sure he was getting proper treatment, according to the station.
"The child arrived at the hospital on Tuesday and while receiving treatment the family, for whatever reason, took the child and left," Oklahoma City Police Sgt. Gary Knight said.
On Tuesday, KFOR reported, paramedics were called to an Oklahoma City hotel, where the baby was found unresponsive. "There were no obvious signs of abuse," according to the police report, cited by the station.
The father, Michael Dominquez, reportedly told Children's Hospital staff the boy's name is Jacob, and his birth date is May 14, 2013, but much of the information given to the hospital proved to be untrue.
Authorities are still trying to locate the child's parents, who they say may be in the Dallas area.

The child's parents were last seen driving in a red Ford F-150, possibly with an extended cab, according to a police department website. The truck has Texas plates and a sticker on the back window that reads "BOSS."