2 journalists allegedly assaulted by Charlottesville counter-protesters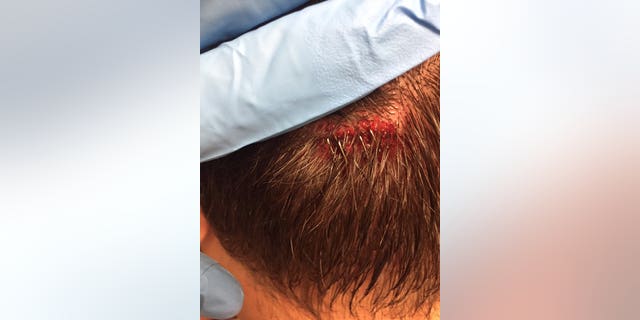 NEWYou can now listen to Fox News articles!
Two journalists were reportedly assaulted by anti-racist counter-protesters in connection with the white supremacist rally in Charlottesville, Va., Saturday.
Taylor Lorenz, senior editor and director of emerging platforms for political outlet, The Hill, was streaming the aftermath of the deadly car rampage in Charlottesville on Facebook Live when she says she was punched in the face.
She was filming on her cellphone while in a crowd of people protesting against the racist hate group rally when her assailant can be heard asking Lorenz to stop recording in the last 15 seconds of the livestream.
"I'm sorry, please can you put that away," he said. She tells him she's a member of the press, and he can be heard saying, "I understand. Can you please put that away?"
The phone is then knocked out of Lorenz's hand, she screams and the man is heard shouting, "Stop the f------ recording!"
At that point, the livestream cuts out.
CHARLOTTESVILLE AND A 'NEW GENERATION OF WHITE SUPREMACISTS'
Lorenz tweeted she filed a charge against her assailant and that she discovered he already had an active warrant out and was arrested.
She is "really f------ pissed at the guy who punched me mostly because he cut off my stream," Lorenz tweeted.
In a separate incident in Richmond, Va., a photojournalist for local CBS station WTVR was assaulted after recording video of a large crowd of anti-white supremacist protesters. He was hospitalized after being hit in the head, receiving four staples in his scalp.
In the recorded exchange, a protester asks the journalist, who was off the clock, to stop recording.
"Stop filming, bro," the protester is heard yelling.
"I can film whatever," the CBS 6 staffer replied in the video. "Get out of my face."
The employee said protesters then put flags in his face to block his camera view and intimidate him.
A post was published on the Antifa Seven Hills Facebook page describing the situation. WTVR said the assertions made in the post are untrue.
"When this man ran up he was told people did not want to be filmed, he proceeded to film anyways. He was then told AGAIN that he was not to film people's faces. He proceeded anyways," the post reads.
TRUMP'S TAKE TWO ON CHARLOTTESVILLE ATTACK
"That's when then I extended my arm above the flags to try to get a better shot of the protest," the CBS journalist told WTVR.
"One member of the group hit the phone out of my hand and my natural reaction was to push them out of my personal space. Immediately following I was hit in the back of the head with some type of blunt object."
A source at the station said the photojournalist has been out of work for three days.