2 inmates dead after Nebraska regains control of prison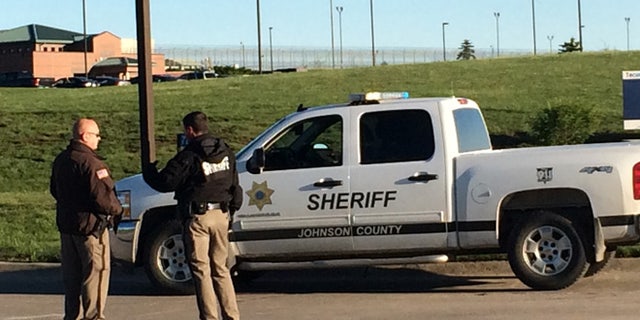 NEWYou can now listen to Fox News articles!
TECUMSEH, Neb. – Two inmates were found dead at a maximum security prison in southeast Nebraska Monday, after officers regained control from prisoners who seized at least part of the facility a day earlier.
Prison guards in riot gear were seen around 8 a.m. leading groups of inmates with their arms behind their backs across the courtyard of the Tecumseh State Correctional Institution.
The disturbance began Sunday afternoon when prisoners gathered in front of a housing unit at the prison about 60 miles southwest of Lincoln, state Department of Correctional Services spokesman James Foster said in a statement.
Two staff members were assaulted and one inmate was shot as officers tried to break up the gathering, Foster said. At some point, a second inmate was injured by a rubber projectile.
Inmates took control of at least part of the facility that houses 11 death row inmates, the department said in a statement. Smoke rose from two housing units on Sunday and driveways to the prison were blocked. Prison officials said the perimeter was secured by Sunday evening and all staffers were accounted for. There were no reports of any escapes.
Foster said officers managed to regain control of the 960-bed facility on Monday. Two inmates were found dead and the Nebraska State Patrol is investigating.
Prison officials didn't release details about the deaths, and they did not immediately respond to requests for more information Monday morning.
The disturbance will test Nebraska's new Corrections Director Scott Frakes, who was appointed in January to restore the department's reputation after a series of high-profile problems, including hundreds of miscalculated sentences. Frakes is a former administrator in Washington state's prison system.
A spokesman for Gov. Pete Ricketts, who took office in January, said he was monitoring the situation Monday.
The Lincoln Journal Star reported it received a call from inmate Jeffry Frank just before 11 p.m. Sunday via a case manager's office phone.
"We've pretty much taken the whole prison," Frank told the newspaper.
He said that no prison employees were inside the housing unit and described the scene, saying: "The ceilings are fallen. There's drywall on fire. There's cameras torn down," according to the Journal Star.
Foster told the Omaha World-Herald that inmates had gained access to an office with a phone.
At Frazier's Cafe in Tecumseh, Wanda Frazier said she thought a farm field was on fire Sunday because the smoke coming out of the prison was so thick.
"We thought they were burning fields. It was black and just rolling," Frazier said.
There was no smoke at the site by Monday morning.