2 arrested after officer killed in Hawaii, shooter sought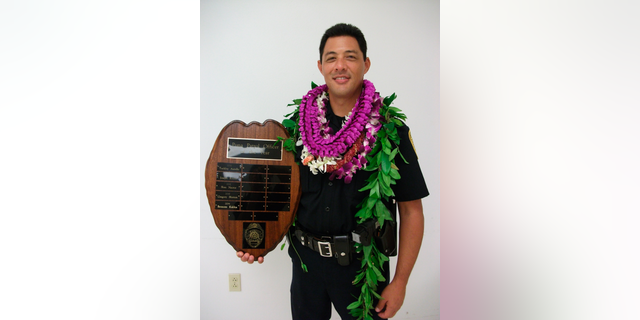 HONOLULU – Two associates of a man suspected of killing a Big Island police officer have been arrested but the shooter remained at large, authorities said Friday.
The arrests were made during a manhunt prompted by the killing of Officer Bronson Kaimana Kaliloa during a traffic stop Tuesday near Hilo, police said.
The search was continuing for suspect Justin Waiki, 33, whose last known address was in Las Vegas. Authorities say he has a criminal record on the Big Island.
"We hope to get him today," Hawaii County police spokesman Alan Richmond said. "We have a full press on, as you might imagine, to capture him."
Police received a tip that Waiki was seen in a Toyota pick-up truck in Kailua-Kona, on the other side of the vast island from where the shooting took place.
Officers spotted the truck Thursday and approached a man in the driver's seat and a woman in the passenger's seat. The man drove toward the officers and an officer fired three shots, police said in a news release. The truck then drove away.
Officers chased the vehicle and one fired 10 shots at the truck. The man and woman abandoned the truck in a coffee field and ran.
Police arrested Harvey Damo Jr. and Shevylyn Klaus on suspicion of theft. The truck was reported stolen earlier in Hilo, on the eastern side of the island where Kaliloa was shot, police said.
Damo and Klaus were being held at a police station. It wasn't clear if they had attorneys.
Police believe they are Waiki's associates, Richmond said.
Police and prosecutors on the Big Island have warned residents that harboring or attempting to help Waiki could lead to a felony prison term.
The U.S. Marshals Service, FBI and the U.S. Bureau of Alcohol, Tobacco, Firearms and Explosives are each offering $10,000 rewards for information leading to the capture of Waiki. The agencies are assisting with the search, along with state sheriffs.
Kaliloa, 46, was the first police officer to be fatally shot on the Big Island. He had been married for 23 years and had three children. He was "Officer of the Year" for his district in 2014.
Kaliloa's niece Kawehi Haug sent a Facebook message Thursday to The Associated Press.
"He was strong and kind and funny and smart and chivalrous and served his community every day as an honest and upstanding police officer whose convictions guided him to always do the right thing," she wrote.
She also said he was a loving husband and father.
Haug said Kaliloa and his wife adopted their three children, ages 3, 4 and 7, through the state foster care system.