18 Penn State frat members, fraternity, charged in student's hazing death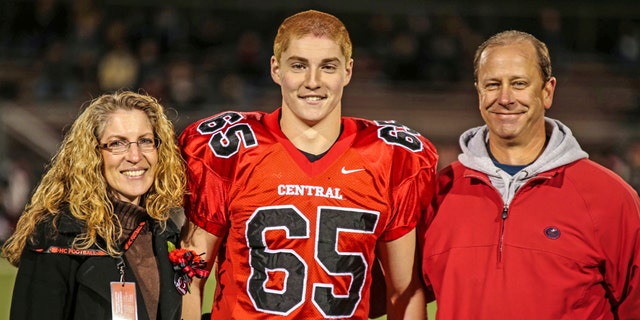 Prosecutors announced criminal charges Friday against 18 Penn State students and a fraternity in the hazing death of a New Jersey teen during an alcohol-fueled pledge night.
Tim Piazza, 19, suffered fatal injuries when he fell down a set of stairs during a fraternity pledge party at Beta Theta Pi on February 2. Eight frat brothers and the frat are accused of involuntary manslaughter. The others face charges ranging from evidence tampering to furnishing alcohol to minors.
Jim Piazza said Friday his son's death was a senseless and preventable tragedy.
"This is the result of a feeling of entitlement, flagrant disobedience of the law, and disregard for moral values that was then exacerbated by egregious acts of self-preservation," he said at a press conference in Bellefonte to announce the charges.
Centre County District Attorney Stacy Parks Miller said pledges were forced to drink enormous amounts of alcohol during a drinking game called "running the gauntlet," WJAC-TV reported.
She said there was a video showing that Piazza's condition worsened overnight, according to the station. The DA said during that time Piazza got up and fell four more times and fell down the stairs again.
STUDENTS SUE OVER SUSPENSIONS FOR 'LIKES' ON RACIST POSTS
She said frat brothers gathered around him in the morning and said he looked dead.
She said some then Googled: "What do to for a head injury."
"They waited over 40 minutes before they called for help," Miller said, according to the station. "By then, it was too late."
The station reported that Miller said that in the video some brothers could be heard in the background saying, "We can't get caught or we're going to be in big trouble."
Piazza was a sophomore engineering student from Lebanon, New Jersey.
DRESS CODE CRACKDOWN SUSPENDS 150 STUDENTS, BRINGS CRITICISM
Penn State permanently banned Beta Theta Pi on March 30, accusing it of a "persistent pattern" of excessive drinking, drug use, and hazing.
Piazza was found unconscious on a couch on the main floor when paramedics arrived after a call for help. He died two days later at a hospital.
The Associated Press contributed to this report.