11-year-old girl helping her mom killed when tree falls onto car during Northeast storm
An 11-year-old girl in New York, who was helping her mother unpack their car during a powerful storm, was killed when a tree snapped and fell onto their vehicle.
The girl's mother had just parked the family SUV at their Newburgh City home when violent wind gusts toppled a tree and trapped the girl inside, FOX5 NY reported. Newburgh is about 60 miles north of New York City.
"The mother was on the porch, crying, 'My daughter, my daughter,'" Ramon Rodriguez, a witness, told NBC News 4 New York. "It kind of gave me a chill when I first saw it."
Firefighters responded and used power tools in an attempt to cut away the tree, FOX5 NY reported. The mother stood outside the car in tears as the fire department worked.
"Suddenly it turned into a nightmare," a resident told the station. "All Newburgh was horrible."
The girl was pulled from the car and taken to a local hospital where she was pronounced dead. The mother suffered minor injuries.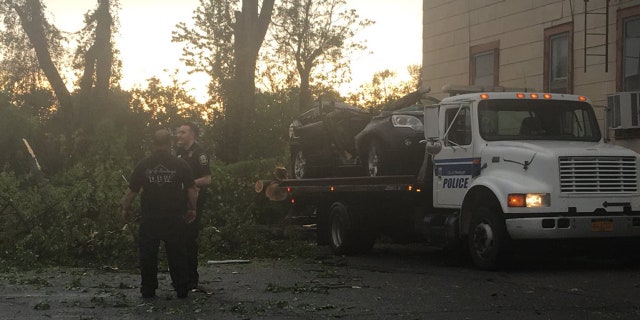 Neighbors told News12 that the family had usually parked the SUV on the other side of the lot outside their home. Police were withholding the identities of the mother and daughter as of Tuesday night.
The torrential rain and destructive winds hit Newburgh—located about 70 miles north of New York City—especially hard, knocking out power and collapsing structures around the city.
The storm also has been blamed for the death of a Connecticut man who was killed when a tree fell onto the truck he was taking shelter in.
In its wake, the storm knocked out power to hundreds of thousands of homes, downed trees and electrical wires, sparked fires, washed out roads and left commuters stranded for most of the evening.
The Associated Press contributed to this report.