100 pounds of marijuana among items seized from North Carolina home day care, cops say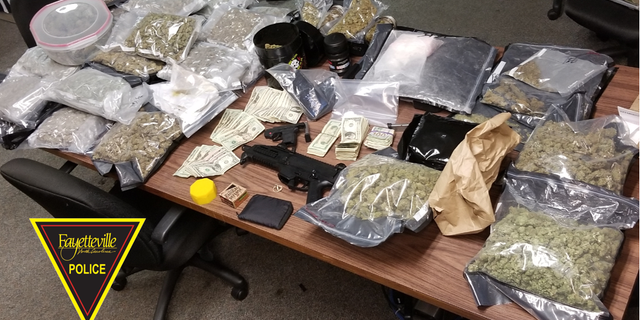 Three suspects have been arrested in connection with a drug bust at a home day care center, North Carolina investigators say.
Fayetteville Police have been conducting a monthlong investigation that has led to the seizure of up to 300 pounds of marijuana, police said in a statement.
The investigation resulted in police executing a search warrant last Monday. The warrant led to the arrest of Alvin Davis III, 27, who was charged with trafficking cocaine and carrying a concealed weapon, among other charges.
"As the Fayetteville Police Department's Gang Unit continued this investigation, they executed an additional search warrant at a residence along the 1000 block of Ronald Reagan Drive on Tuesday, July 17, 2018," investigators explained after discovering a home day care might be involved.
Officers waited until after the day care closed so no children were present for the search, according to police. Authorities added that they seized 100 pounds of marijuana, one-half kilogram of cocaine, up to an ounce of heroin, 10 firearms, over $70,000 in cash and a 2013 Audi Q7 SUV.
Victoria L. Everett, 34, owner and operator of "Tori's Playhouse," was charged with trafficking in marijuana by possession and trafficking in heroin by possession, among other charges, police say.
Authorities added that a co-owner, Reshod J. Everett, 32, and U.S. Postal Service employee, was charged with conspiring to traffic in heroin and cocaine, among other things.
Officers found marijuana cookies and gummies at the scene, but haven't seen evidence at this time that the children had access to them, wral.com reported.
Police say the investigation is ongoing.