1 dead, 2 seriously hurt in NYC crane collapse
NEWYou can now listen to Fox News articles!
One person was killed and three others were injured - two seriously - when a crane collapsed Friday morning in New York City during a snow squall, officials said.
The 565-foot-long crawler crane collapsed as it was being lowered into a secure position due to winds of more than 20 mph, Mayor Bill de Blasio said.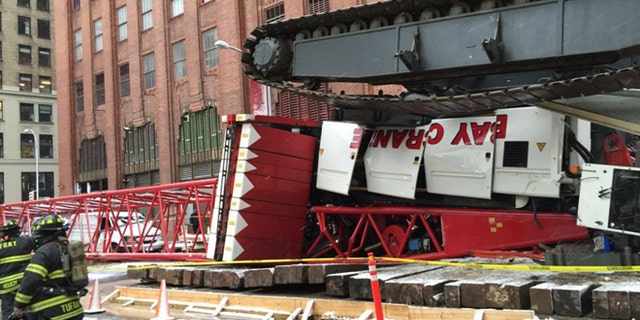 "Something went wrong in that process," he told reporters.
On Thursday, city building inspectors approved a permit to extend the crane to its maximum length, de Blasio said.
The mayor said the accident, which was reported around 8:25 a.m. Friday on Worth Street between West Broadway and Church Street, a few blocks from the World Trade Center in Lower Manhattan, could have been worse.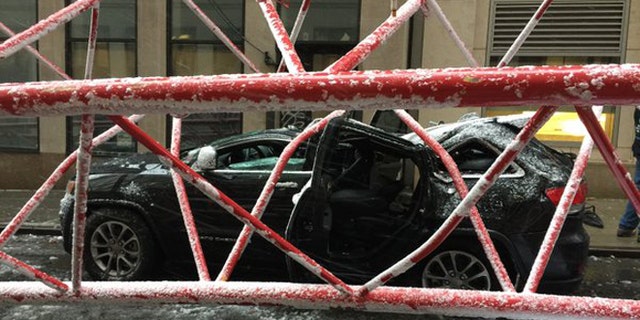 Construction crews had cordoned off the street to traffic as the crane was being secured.
"Thank God it was not worse," de Blasio said.
The person killed was sitting in a parked car.
The Associated Press identified the victim as David Wichs, 38. His family said he graduated from Harvard with a mathematics degree after immigrating to the US from Prague as a teenager and worked for a computerized financial trading company.
He was "the most brilliant person ever," sister-in-law Lisa Guttman said.
It appeared the crane snapped in half, New York Fox 5 reported.
The injured were taken to area hospitals, fire officials told Fox News. None of the injuries appeared to be life-threatening.
The crane's boom landed across several cars, smashing their roofs, as debris littered the street. It also clipped two buildings.
The crash impact ruptured a water main and ignited a gas main leak. Several commercial buildings were evacuated.
Witnesses reported hearing a loud boom as the crane crashed to the street, Fox 5 reported.
"It was right outside my window," Robert Harold, who works at the Legal Aid Society, said. "It was a crashing sound. You could feel the vibration fin the building. I looked out the window and saw it lying in the street."
After the accident, the city ordered that the 419 construction cranes around the city be secured as a precaution.
The Fire Department of New York dispatched 25 units and 105 firefighters to the scene.
The crane was being use to repair generators and air conditioners on the roof of a building on Hudson Street that once belonged to Western Union.
The crane went up just last week, city officials said.
A manager at the company that owned the crane, Bay Crane, told the Associated Press the accident was being investigated and declined further comment.
Subway trains bypassed two stations in the area.
The Associated Press contributed to this report.
Click here for more from Fox 5.