1 dead, 2 'critical' among 4 victims of Colorado shooting, police say
One of the four people shot Thursday in the parking lot of a dental office complex near Denver has died, and two others were in critical condition, police said.
The victim who died was an unidentified boy, police in Westminster said. Those critically injured were his mother and brother, they said.
The fourth victim, a man unrelated to the other three victims, was expected to survive.
"He was running back and I called him, I said 'come here, come here, come here,' and he said I want to go over there, my mom just got shot in the ear," witness Nancy Garcia told KDVR Fox Denver. It's unclear if she was referring to the boy who died.
Meanwhile, a person of interest was in custody, police said.
They said a vehicle seen leaving the area was located about three hours after the shooting, and investigators are interviewing the driver.
It was not immediately clear what led to the shooting.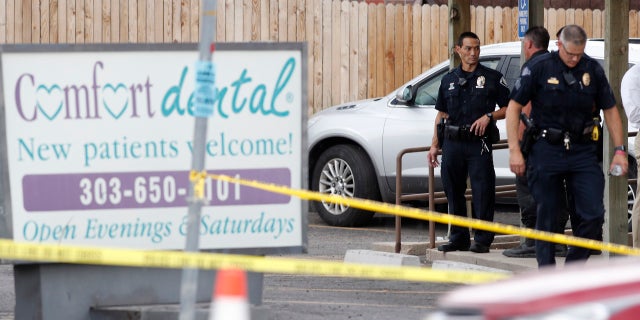 Officers who arrived at the scene found the four victims outside at the Cedarwood Square Office Complex, about 14 miles northwest of Denver.
Investigators were interviewing people who were inside or near the business complex at the time of the shooting.
"A lot of witnesses to talk to and get information," Cheri Spottke, Westminster Police Department spokeswoman, said. "Obviously, they're upset."
Police surrounded the complex that holds several dental offices, using yellow tape to block access to the area and placing evidence markers.
A road next to the business park was closed to traffic, and police also closed several lanes of another major road nearby.
All roads reopened by Thursday night.
The Associated Press contributed to this report.