What's It Like to Work on a Cruise Ship?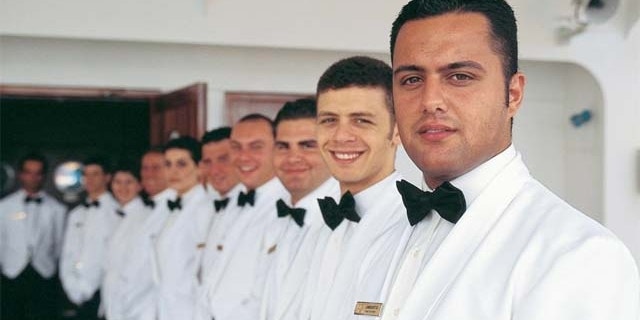 NEWYou can now listen to Fox News articles!
Have you ever wondered what it would be like if you worked onboard a cruise ship? Who wouldn't want to travel to exotic lands, meet people and work in vacationland? It might be cool to be a cruise director or ship's bartender like "The Loveboat's" Julie McCoy or Isaac Washington.
In our recent "stupid cruise questions" columns, there was a lot of interest from readers in what crewmembers do. "Does the crew sleep onboard?" "Do crewmembers get the weekend off?" and "Does the crew eat the leftover food?" are all common questions. They aren't really "stupid," just awkward expressions of normal curiosity about ship life for crew members. How do they eat, sleep and use their time off?
Before I answer, a little personal history: I am now a cruise reporter, but I worked on a cruise ship as a stage manager in 1983-4 and again in 1993. I started cruise writing in 1997 and have visited the crew quarters on several ships since then.
Does the Crew Sleep Onboard? Yes, they do, but the conditions vary. There are two categories of ship workers; crewmembers and staff.
Crewmembers include cooks, waiters, busboys, bartenders, housekeeping and maintenance. They eat, sleep and live on the two crew-only decks when they are off-duty, and only enter passenger areas to work.
Staff members are higher on the job scale; they include the captain and his team of officers, and the hotel department, including the guest relations and entertainment staffs. Staff members interact with the public regularly. Staff also includes theater techs, computer techs, videographers, sports and fitness, etc.
There are also many people living on cruise ships who work, not for the cruise line, but for outside concessionaires. Two well-known gift shop concessionaires are Harding Brothers and Starboard Cruise Services (formerly Greyhound). Most cruise ship spas are operated by Steiner Leisure, which hires its own shipboard staff. The casinos, photography services, medical staff and entertainment are often outsourced.
Concession employees have varying access to the ship; they can eat in the buffet areas, but cannot go to nightclubs, etc. There are usually two decks where ship workers live -- the deck right at the water line, with windows that look outside but do not open; and the deck below, with no windows (because it is below the water's surface).
The upper crew deck also has the crew mess (dining room), a game room with foosball and ping pong, a large-screen TV with hundreds of DVDs, a fitness center, an Internet room (where they also pay by the minute but at a much lower rate than passengers), and a crew store where they can buy toothpaste, snacks and cheap beer.
The crew area also includes a bar, usually open every night for varying hours for drinks and dancing, and a deck area with a small swimming pool and deck chairs. All crew cabins have a toilet and shower in the bathroom, and a television with all the channels the guests see plus a separate crew channel (with lots of soccer matches and action movies). The beds are singles, often bunk beds. They have room stewards who dust and vacuum.
There are also laundry rooms for use by crewmembers. Crewmembers live on the lower deck, usually two to a cabin. Staff members live on the upper deck and often get a cabin to themselves. Everyone works seven days a week, but the number of hours varies a great deal depending on the particular job.
Restaurant workers will work in shifts and sometimes have lunch off, giving them a chance to go ashore or catch up on rest. Many onboard facilities close for legal reasons when a ship is in port -- the gift shops and casinos, for example -- so those workers are always off duty during port calls.
Staff members live on the upper crew deck, except for the captain and other officers, who live right behind the bridge – the room where the ship is steered, usually on deck eight or nine, forward. Their corridor of private staterooms is behind a secure door. Staff jobs generally include "run of the ship" privileges, which means they can eat lunch and dinner in the public buffet area (although they often must wait until 30 minutes before closing). They are allowed in all public rooms to fraternize with the passengers. Most congregate in the nightclub to drink and dance after work. They are also allowed in the gift shops, but shopping is not a priority for them.
No staff member is allowed to gamble or sunbathe by the passenger pools, but they can use the fitness facilities, get a massage or haircut in the spa, and spend money in the gift shops and special dining rooms. They can also watch the live shows and movies.
"Does the crew get the weekend off?" Many passengers come onboard thinking most crewmembers take the weekend off. They think perhaps on those days, they will just get leftovers and all the bars and restaurants will be closed. No, ship workers work every day of their contract. They get hours off, not full days.
"Does the crew eat the leftover food?" The crew mess usually dishes up food that foreign crew members like -- rice, fish, noodles, hamburgers. They will get leftover passenger food only if it never left the galley. They are never given anything left behind by passengers. By the way, any worker caught eating unauthorized passenger food can be fired.
Fraternizing with Passengers Before 2000, it was common for staff members and passengers to "date" during a cruise, but since allegations of sexual misconduct cropped up in the early 2000s, new rules forbid any off-duty ship worker from being alone with a passenger. Crewmembers must be on the crew decks when not working, so significant fraternizing with a passenger rarely happens, but staff members with run of the ship can get more involved. I can't say with certainty how much "fraternizing" is tolerated now, but I know what I saw decades ago when I worked on cruise ships -- and there was plenty. One joke I heard was, "as long as you have a clipboard you can be anyplace at any time."
But these days I will say "it depends" on the cruise line and the ship. The rules now say any staff member caught in flagrante delicto with a guest will be fired. Each ship is a separate world, and what happens on any ship is a reflection of the onboard management, from the captain down. If the captain is a stickler for the rules, it's a tight ship and the rules strictly apply. If management is less strict, that old adage about loose lips sinking ships may not be as accurate.
Common Crew Words and Expressions Although the lexicon changes, there are many slang words and phrases that only crewmembers understand. When I worked on ships, our word for passengers was "coneheads," which became just "cones." Why coneheads? The word comes from the famous Saturday Night Live skit where the Conehead family was constantly asked "where are you from?" and the ubiquitous SNL answer was "we're from France." It's the same question every crewmember answers and asks every passenger they meet.
Other crew slang is "I-95" for the main corridor through the upper crew deck. A "vacation" is the unpaid leave you get between contracts. "Sign-on" is the term for joining the ship. Food & Beverage is "F&B", Cruise Director is "CD," and any officer is called a "shirt," for their white uniform shirts with epaulets. I read online that a non-tipping passenger is called a "banana," but that is a new one to me. "Ship Life" is another common term to sum up everything about working on a cruise ship. "I'm so sick of crew food, this tiny cabin and rude passengers!" "Well, that's ship life."
For people who may interested in learning more about life at sea, click here for the Royal Caribbean web site for shipboard careers.
Paul Motter is the co-founder and editor of CruiseMates.com cruise travel guide.