US to ban travel to North Korea, reports say
Following the detention and death of University of Virginia student Otto Warmbier -- and amid dictator Kim Jong Un's continued nuclear ambitions -- the U.S. government is set to ban American citizens from traveling to North Korea, according to reports on Friday.
Secretary of State Rex Tillerson had determined to implement a "geographical travel restriction" for North Korea, which would make the use of a U.S. passport to enter the rogue regime illegal. The restriction is reportedly going into effect 30 days after a notice is published in the Federal Register, but it was not immediately clear when the notice would be published. There was no announcement in Friday's edition of the government publication.
NORTH KOREA ECONOMY IS GROWING AT HISTORIC RATE DESPITE SANCTIONS
Under U.S. law, the secretary of state has the authority to designate passports as restricted for travel to countries with which the United States is at war, when armed hostilities are in progress or when there is imminent danger to the public health or physical security of U.S. travelers. Since 1967, such bans have been implemented in: Algeria, Iraq, Lebanon, Libya, Sudan, Cuba and North Vietnam.
NORTH KOREA FIRING SQUAD CARRIES OUT PUBLIC EXECUTIONS IN SCHOOL YARDS, REPORT SAYS

Young Pioneer Tours, a company that arranges trips into North Korea, and the same outfit Warmbier used for his trip to the country, tweeted a statement early Friday acknowledging the upcoming restriction.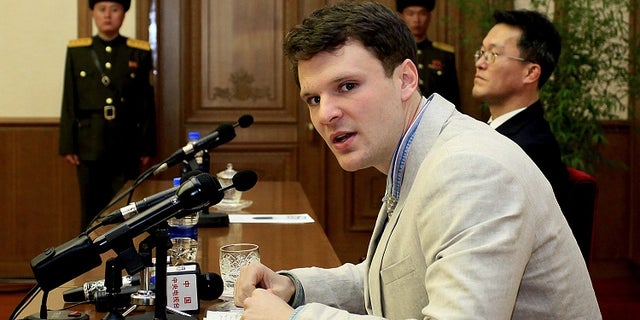 "We have just been informed that the US government will no longer be allowing US citizens to travel to DPRK (North Korea.) It is expected that the ban will come into force within 30 days of July 27th. After the 30 day grace period any US national that travels to North Korea will have their passport invalidated by their government," the statement said.
Warmbier was detained at Pyongyang's airport on Jan. 2, 2016, near the end of his tour group's stay in North Korea. Warmbier was sentenced to 15 years in prison with hard labor for allegedly attempting to steal a North Korean political banner from a hotel.
North Korea released Warmbier -- who had fallen into a coma -- to the U.S. in mid-June after he spent 17 months in detention. He died a week later.
At least three Americans remained in North Korean custody.
The Associated Press contributed to this report.