United passenger claims airline covering up 'near-death' incident that almost resulted in pilots being 'sucked out of the plane'
A United passenger is suing the airline for allegedly covering up an incident last year that "nearly resulted in the loss of all life aboard."
Flight 931 from Chicago to London was forced to make an emergency landing in Goose Bay, Canada only a few hours into the journey after the windshield shattered, the cause of which United blamed on a bird strike.
Upon landing, passengers were allegedly required to stay onboard the aircraft for eight hours until a replacement plane arrived.
LAWSUIT CLAIMS UNITED AIRLINES FAILED TO PROTECT TEEN PASSENGER AFTER BEING SEXUALLY ASSAULTED WHILE ASLEEP
The passenger who filed the suit Wednesday, Theodore Liaw, claims United is trying to cover up the real story, which he allegedly discovered from the pilots flying the plane.
"United has been lying to everyone about what happened," the suit claims.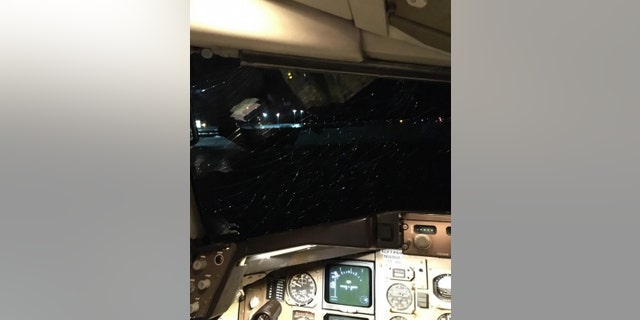 According to one pilot, it wasn't a bird strike that caused the window to crack because "there's nothing alive at 40,000 feet." Instead, they believe the incident was a result of a United mechanic over-torqueing the bolts of the cockpit window.
"Nothing struck Flight 931 in the air. There was no bad weather. Under such ordinary flight conditions, cockpit windows for a Boeing 767-300 do not break of their own accord," the suit claims.
The document also states that had the last layer of the windshield broken before landing, "both pilots would have likely been sucked out of the plane and Flight 931's passengers would have been doomed."
FOLLOW US ON FACEBOOK FOR MORE FOX LIFESTYLE NEWS
Liaw also says the pilots "grimly mentioned that everyone came close to dying many times over," according to the suit.
United reportedly gave all passengers on board a $500 voucher in exchange for a release of all liability, though Liaw did not accept it.
Instead, he wants to hold United accountable and is seeking "fair compensation" for his bodily injury and severe emotional distress as a result of the "brush with death."
CLICK HERE TO GET THE FOX NEWS APP
Liaw, a CEO and "extremely experienced flyer" who's flown over one million miles with United, reportedly now has a fear of flying which could put his "entire career in jeopardy."
United released the following statement to Fox News: "At United, safety is our top priority and we diverted the aircraft due to an issue with the cockpit window. The aircraft landed safely, and we are continuing to investigate this matter. Due to the pending litigation, we're unable to comment further."