Travel Secrets of Jet Setting Fashion Designers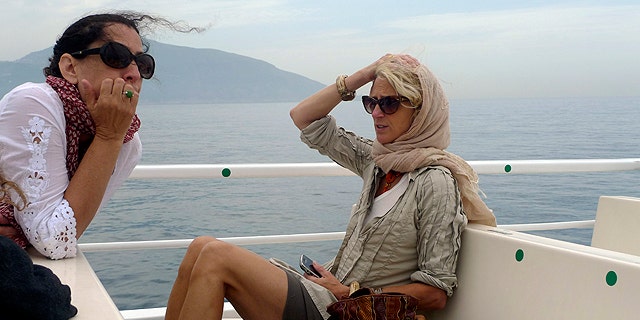 It's off to Hong Kong to meet with buyers, Italy to search for the finest craftsmen, then to St. Bart's for a little R&R.
Fashion designers often live the jet-set life they love to mimic on their runways. They travel for business, they travel for pleasure. They are always looking for inspiration, and they take a lot of photographs. The Council of Fashion Designers of America partnered with publisher Assouline to collect personal tidbits for the new book "American Fashion Travel," which includes Lubov and Max Azria's family vacations in Punta Canta, Dominican Republic, and Gilles Mendel schussing through the snow as a teenager in Val d'Isere, France.
Alexander Wang is always on the hunt for the perfect spa, but he'll take the accommodations at the George V in Paris or Conrad in Tokyo easily in its stead. Phillip Lim loves a good road trip, Tory Burch scours India for ideas and, while Cynthia Rowley loves the Sahara and the Guggenheim in Balboa, Spain, her favorite destination is close to home — in Montauk, N.Y. — where weekends become mini-vacations.
Diane von Furstenberg, president of the CFDA, a not-for-profit trade association, likes to go to food markets and travels to Asia — hiking boots in her suitcase — whenever she can. She favors boats, cars and trains over planes.
"For me, traveling and living are the same," von Furstenberg writes in the book's forward. "How you travel is a symbol of your life."
So, just how do designers travel? What can't they live without? Are they like the rest of us and fall victim to over-packing or have they mastered the art of on-the-move dressing? The Associated Press asked a few designers about the nitty-gritty of globe-trotting travel:
Yigal Azrouel says he can live out of one bag. If he's traveling for fun, he'll probably end up on his sailboat where he needs shorts, T-shirts, flip-flops, iPod and laptop. For the cool evenings, he'll have stowed a sweatshirt or leather jacket in his compact Tumi bag or the vintage duffel bag he bought in a flea market 10 years ago. For business, he can do Europe for a week — or more — with a single suit. "I am not a fashion victim. I will wear the same thing over and over again," Azrouel says during an interview. "I will wash it, of course."
Mendel also packs light, but is more specific, down to the Thom Browne blazer, Ann Demeulemeester trousers, an Ernest Sewn casual button-down and Jil Sander cologne. And when he checks into the Ritz in Paris, he orders soft scrambled eggs to help settle in.
Trina Turk piles on the layers. The cardigan, a safari jacket and the chunky scarf go on and off as she moves between climates or as a plane's cabin temperature fluctuates.
Oh yes, that chunky scarf is key, agrees Azrouel. "I'm always wearing scarves, it doesn't matter if it's summer or winter," he says. "Sometimes I'll cover myself with it on the plane. I don't like those blankets they give out."
For Narciso Rodriguez, it's his cashmere sweater that he doesn't leave home without — and sketchbooks are always in his bag, typically a canvas tote. He does try to go without eating on the plane and he'll drink tons of water. "You feel 100 percent better when you land," he says.
Water, coconut water and fresh-squeezed carrot, apple and pineapple juice are part of Catherine Malandrino's flight plan to fight any jet lag. She moisturizes her skin and lips, and pulls out sunglasses and a big hat upon arrival.
Nanette Lepore brings her pad, pencils and camera — and her sister Michelle whenever she can. "I usually love to travel with my sister. We do business and pleasure travel together. She's always there when I need her, she'll help me lug big bags, but we get separate rooms because I need that space," Lepore tells the AP. "She's so much fun."
At least once a year, there's a big family trip that also includes Lepore's husband, daughter, cousins, nieces and nephews. Italy is their favorite destination, spending as much time in a boat as possible. "That's my preferred mode of travel," she says.
Lepore defines herself as an "over-packer," although she's trying to pare down, especially with luggage restrictions and extra fees. "I don't bring high heels anymore. I think I'll wear them for a night out, but I never do. I wear flat sandals so I still bring all the fun, sexy dresses but I make sure they all look good with flats."
It's one bag — smallish and efficiently packed with "effortless essentials" — for Catherine Malandrino. She leaves extra space because she likes to bring home novelty hats, which she collects. One of her favorite souvenirs, however, is from Phuket, Thailand, where she bought a 300-pound elephant sculpture. Try fitting that in the carry-on compartment.
Turk likes to bring home from faraway lands costume jewelry, which there's always room for. Lepore sheepishly says she carries an extra bag for her take-home treasures. Turk packs chunky necklaces and big rings from home, too, because it helps her maintain her other packing rules about keeping clothes simple.
Accessories are what will keep her outfits fresh each day when she's re-wearing the same pair of jeans and that favorite safari jacket, she explains. "That jacket has been all over Asia, Europe, Mexico and Morocco," she says. "I'm talking about a June trip, either to Bali or Istanbul. Neither are places I've ever been before."