Travel apps that save you time and money on-the-go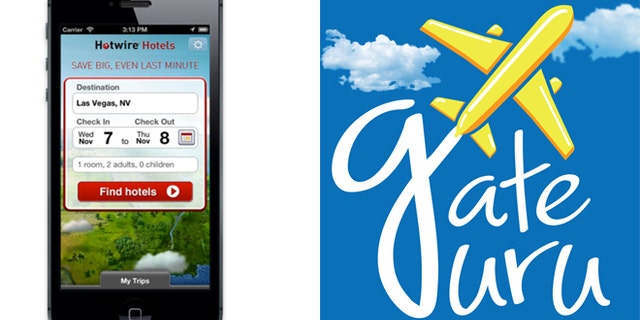 Smartphone adoption continues to rise in the U.S., and with it has come a wealth of conveniences for travelers. According to Neilson, roughly 55 percent of all mobile subscribers now own phones that allow them to access the Internet, and smartphone usage will only go up in the coming years.
Because of this trend, more and more mobile apps are being developed to cater to the on-the-go crowd. That's especially good news for business and leisure travelers, who will always need help in figuring out ways to make travel easier, more efficient and budget friendly. So as we head into the most stressful travel time of the year - the holidays - I thought I'd share a few of my favorite travel apps that may help reduce travel costs and anxiety levels this season.
GateGuru: Giving you options that make airports more enjoyable
If you spend a lot of time in airports, you're probably familiar with the feelings of frustration and boredom that come with long delays and short connections. Where to go? What to do? How can I save? Enter GateGuru. Think of this free app for iPhone and Android users as a Yelp for airports. After you've arrived, you can use the app to easily access the locations and real-time reviews for in-airport food, shopping and services. It will even find current deals if you're on a tight budget, all with just the touch of a button.
My favorite aspect of GateGuru's search engine is that you can also use it to view your pre- or post-security options. I've gone into quite a few unfamiliar airports over the years, assuming there would be restaurant options past security, only to learn I've got one food choice, and it's not a good one. GateGuru is great because it lets you navigate foreign airports like you would your local mall, ensuring you always get what you want without wandering around trying to find it.
Hotwire App: Big hotel discounts in as little as 30 seconds
I may be biased, but I'm really excited to include the first-ever Hotwire mobile app in this list of money saving travel tools. We launched our free app for the iPhone and iPod touch earlier this month and have already received a lot of great feedback. You can use the Hotwire app to book hotels anytime, but its sweet spot is helping travelers get deep discounts at hotels when booking last-minute, up to 50 percent off. And unlike similar apps on the market, the Hotwire app offers our entire inventory of hotels at over 3,145 cities in 61 countries around the globe.
We designed the app to be incredibly fast and simple. Folks can book a hotel in four taps or about 30 seconds if signed into their Hotwire account, and we've created an interactive map that allows you to quickly view and select the neighborhood where you want to stay. So next time you're searching for a hotel, check out the Hotwire app and see how much you can save in just a few taps.
Scoutmob: The locavore's best friend
Traveling to a new city can be daunting. As a visitor, it's hard to find the neighborhood spots that reflect the real local character, and worst of all, folks may end up with a hole in their pocket after overspending on touristy restaurants and activities that just aren't that great. Scoutmob helps you become an instant insider, answering the questions, "where should we go and what should we do?" It provides you with a weekly list of curated picks – cool happenings, fantastic local restaurants, boutiques, spas, etc. – near your current location, and each of the recommendations comes equipped with a review, star rating and associated deal.
For example, you can easily search a list nearby restaurants, read up on them to see if any pique your interest, and then check out the deal associated with it. Once you choose your destination, simply click "USE THE DEAL", show your server/merchant and you're done! It's available to download via Apple, Android and BlackBerry markets.
Gas Buddy: Duel the fuel
You've already paid for the flight, hotel and rental car, so why worry about spending excessive amounts of money on gas? And let's face it, if you need to fill up your tank, there's a pretty good chance that you're away from home even if you're in your own car! Here in the U.S., gasoline prices have been fluctuating for months, and with that in mind, it's best to be equipped with an easy-to-use tool like Gas Buddy. It'll be kind to your wallet while you're away from your favorite gas station, and it's also free to download via iPhone, Android, BlackBerry and Windows stores. When you're running on empty, all you need to do is open the app, enter your location and you'll get a list of the nearest gas stations in order of cheapest price per gallon.
Gas Buddy is also a community-driven app, meaning you or anyone else can update gas prices in real-time. Spend less time worrying about gas money and more time having fun with friends and family.
If you use these tools to become a more informed traveler, and keep your smartphone charged and ready, you'll squeeze more value and fun out of your trip. Whether you're heading home for the holidays, or to a big city for business, travel innovations are always at hand. Also remember to keep exploring your app store and trying new products to see what works for you, and I'll be doing the same, so check back here for updates.