8 travel apps that could save your life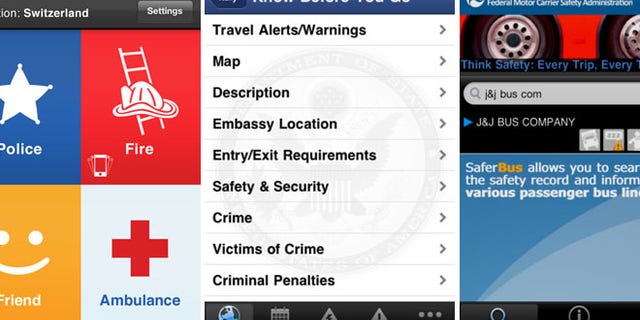 While there is no way to know where and when to be ready for a travel disaster, these eight apps can solve the problem of how. These apps will prepare you for the worst case scenarios and could end up saving your life when you're in uncharted territory.
This app from the American Heart Association is a literal lifesaver. When Dan Woolley of Colorado Springs was caught in the collapse of the Hotel Montana in Port-au-Prince after the Haiti earthquake, he used the app to diagnose and treat injuries to his foot and head.
"I kind of had some time to do some self-diagnosis down there," Woolley told NBC. "God was with me."
Price: $1.99
Even at your sickest, most embarrassing tourist moments there's an app that will come to your rescue. The mPassport will find the local brand equivalent of any medicine that you need, so you can wash down that weird Cambodian cart food with some weird Cambodian Pepto. The app will also translate medical terms and phrases, help you find a doctor, schedule a medical appointment, and locate a nearby dentist, hospital, or pharmacy.
Price: $0.99
If you're planning on taking a bus, you should download the Department of Transportation's SaferBus app. The app will let you look up safety ratings and records for hundreds of bus companies.
Price: Free
When you're traveling, sometimes you can lose track of what is going on in the rest of the world. But that information can be crucial to your safety. This app will keep you in the loop about travel alerts and warnings no matter where you are. It also has a "Know Before You Go" section that will show you where the nearest U.S. embassy is located, local laws to be aware of and list the the entry/exit requirements for every country.
Price: Free
This app is a virtual encyclopedia of information that could be vital to your survival in a travel emergency. ICE 4 Travel stores information on your immunizations, allergies, medications, emergency contacts and translates it all into seven different languages.
Price: Free
When you're in the United States, you know to call 911 in an emergency. But what if you're abroad? Who do you call and how do you communicate with them if you don't speak the language? The Help Call app will automatically detect your location and you can press one easy button to be connected to local fire, police or an ambulance crews.
Price: $2.99
This app may not save your life in the moment, but it could save you in the long term., especially if you are traveling in sunny climates.This app detects the UVI rating of your current location and sets a countdown timer to alert you should reapply sunblock. All you have to do is input your skin type and the SPF of your sunscreen.
Price: Free
Nationwide Insurance Accident Relief
Nationwide Insurance has now introduced a free app that helps people after they've had a car accident and aren't thinking clearly or can't help themselves.The app will help you contact emergency services and prompt you to exchange information with anyone else involved in the accident as well as take phones of the scene. Don't worry if you aren't a Nationwide customer, you don't need to have Nationwide Insurance to use the app.
Price: Free