Texas man asked to leave Six Flags for looking like Santa Claus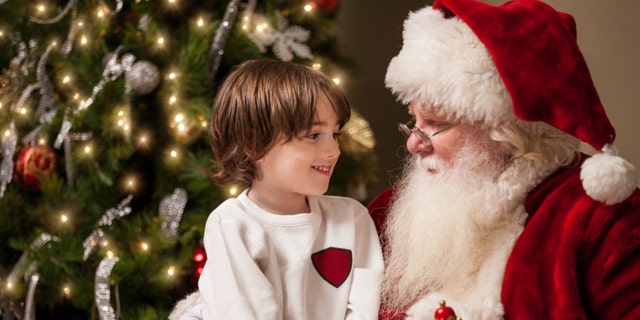 A bearded, bespectacled Texas man isn't feeling too jolly after being kicked out of a Six Flags theme park for looking too much like Santa Claus.
Jerry Henderson of Burleson, Texas says he and his wife have visited Six Flags Over Texas almost every weekend for three years to walk the park for exercise.
Henderson, who sports a long white beard, and small, rimless-glasses says park officials never had a problem with his appearance—until Saturday.
SIX FLAGS SETS WORLD RECORD FOR 'MOST COUPLES KISSING UNDER MISTLETOE'
"This ain't a costume," Henderson told CBS Dallas-Fort-Worth of his signature, Santa-like look which he says he's maintained for almost two decades. During the holiday season, he wears a red vest and Santa hat, too.
"I go to Walmart like this. This is me," he said. "I enjoy making kids smile."
While visiting Six Flags Saturday, Henderson says another park visitor approached him to pose for a picture with her children. That's when the trouble started.
"[I] knelt down, put my arms around them, and afterward I reached in my wife's walker, pulled out two candy canes, handed it to them," Henderson said of the encounter.
A park security staffer soon approached and immediately told the Kris Kringle lookalike that he was no longer welcome.
"'We're gonna have to ask you to leave'," Henderson says the guard told him. "I said, 'For what reason?' He said, 'You look too much like Santa Claus.' And I'm like, 'Are you kidding me?' I do not approach kids. The parents come to me."
Henderson claims he then offered to take off his hat and promised to stop handing out any treats but says the park manager told him that wouldn't be enough—he'd have to get rid of the beard, too.
"Not for you, Six Flags, or anybody else, am I shaving my beard off," said Henderson. He left the park but has filed a complaint, requesting a refund from Six Flags for his season pass.
HOW TO GET KICKED OUT OF A THEME PARK
When reached by CBS 11, Six Flags released the following statement:
"We apologize that Mr. Henderson was inconvenienced, but the safety of our guests is always our highest priority. We cannot knowingly allow individuals who are not approved by the park to interact with small children in this capacity. Mr Henderson was handing out candy to our younger guests and was dressed up as Santa which is in violation of our No Costume policy. When asked to change he refused and at that point was asked to leave."
Many theme parks have strict policies prohibiting adults from wearing unusual costumes.
Henderson says he has to yet to hear back about his request for a refund.