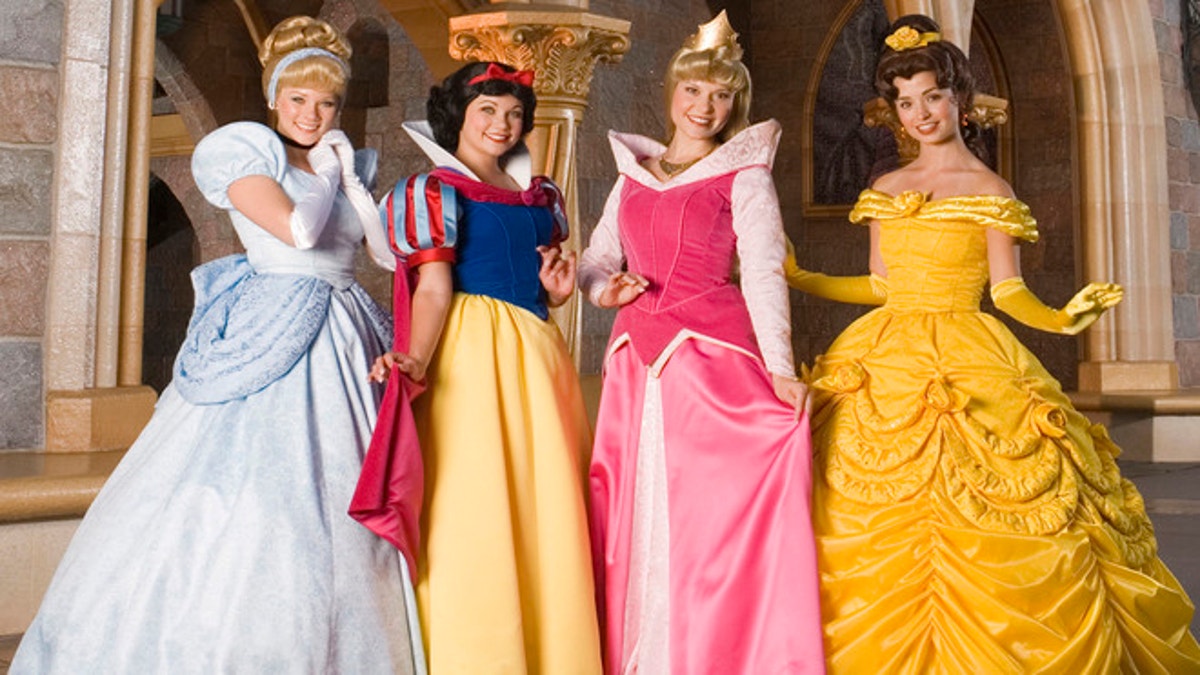 Who cares if it's hot?
Certainly a pint-sized princess doesn't when she's busy getting bejeweled and bedazzled.
Despite the Southern California summer heat, 4-year-old McKenzie Reyes was all smiles, decked out in the sumptuous long-sleeved, floor-length green Princess Merida dress, a tiara in her hair and sparkles on her fingernails. Princess Merida, for the uninitiated, is the newest Disney princess, the central character in the summer movie "Brave," which is set in Scotland
This had been McKenzie's third visit to Disneyland's busy Bibbidi Bobbidi Boutique and she had a princess dress to show for each visit. Every chair was taken with young princesses-in-waiting, as obliging fairy godmothers worked their magic on hair, nails and faces. "It's worth the money to make her feel so special," said Patrick Reyes, who is from San Francisco.
"Having a fairy godmother make you into a princess, that's as real as it gets," said Jill Sodini, visiting Walt Disney World for the first time and watching the transformation of her two young daughters at the Bibbidi Bobbidi Boutique there. "You can't put a price on it."
Actually, you can -- well over a hundred dollars by the time you figure in the dress, the wand, the shoes and the makeover. That doesn't seem to deter any young princesses or their parents who book reservations far in advance at Disneyland, on the new Fantasy ship, and in two locales at Walt Disney World.
When I visited Disneyland earlier this summer, moms and dads were busy filming the princess transformation on their iPads and smartphones. "It never gets old for them" said manager Joanna Pisanski
Power to the princesses! Whether here at Disneyland, at the Magic Kingdom in Orlando, Fla., or on Disney Cruise Line's newest ship, it seemed every 4- to 6-year-old was decked out as their favorite Disney princess -- Belle and Tiana, Snow White and Cinderella and now Merida. Young celebs too. Suri Cruise, 6, was widely photographed dressed as Belle and Cinderella during her recent visit to Disney World.
A reservation for a meal with the princesses at Cinderella's Royal Table at Disney World is one of the hardest reservations in the entire park to get with families making bookings up to six months in advance. (TIP: It's easier to get a reservation for breakfast with the princesses at Epcot's castle-like Akershus Royal Banquet Hall.)
Parents, young princesses in tow, wait in long lines for a hug, an autograph and a photo opp. Next year, a new Princess Fairytale Hall is scheduled to open at the Magic Kingdom.
But it's not only little girls who want to be princesses. Consider the blockbuster wedding business Disney does. "You're never too old to be a princess," said 10-year-old Bronlyn McDonough, admiring her reflection after her princess do-over aboard Disney's cruise ship, Fantasy.
No wonder Disney is nearly doubling the size of Fantasyland in Orlando's Magic Kingdom to include Storybook Circus, which is already open with new rides and Fantasyland Forest, scheduled to open this December with a new Journey of the Little Mermaid attraction, a huge Be Our Guest restaurant, complete with a ballroom, and at Belle's cottage, a magical mirror that transport's guests to Beast's library where Belle and Lumiere will be waiting.
Princesses can even go to bed royally at the Port Orleans Resort, which offers ornate headboards that light up, special "royal" fixtures on the sinks and magic footstools. (The back-story: Princess Tiana invited some of her royal BFFs to a vacation getaway.) It won't bust the budget either with royal rooms under $200 a night. Little Mermaid rooms at Disney's newest resort, The Art of Animation, are scheduled to open next month.)
If your little princesses are clamoring for the chance to meet and mingle with their idols, fall is a great time to visit Orlando or Southern California. The crowds are gone, it's cooler and there are great deals. There's also plenty new to see. (Check out what I wrote about the new Cars Land at Disney Land.) At Fantasyland young kids will love the new Barnstormer Coaster and the Splash 'N' Soak play area at Storybook Circus while SeaWorld touts the one-of-a-kind Turtle Trek. (Here's what I said about Turtle Trek), LEGOLAND Florida has a new water park and Universal Orlando has a new 3-D ride Despicable Me Minion Mayhem.
Here are five of the latest deals:
-- In the military? There are special tickets for U.S. military personnel and their families at Walt Disney Resort and Disneyland. At Disney World, four-day park hopper tickets are just $156 plus tax -- less than half regular price -- and three-day tickets at Disneyland are $125 each. There are also room deals available.
-- A family of four can stay for three nights and play at the Disneyland Resort for four days starting at under $1,600.
-- Book a week's stay at Disney World this fall and get a Free Dining Plan starting Sept. 30 -- a total package starting at under $2,500.
-- Use Promo Code ORLANDODEALS100 to save $100 on a Travelocity vacation package that includes flight and hotel.
-- Get a free night and day at Universal Orlando Resort or a free all-day dining voucher with a single-day admission to SeaWorld Orlando.
At Disneyland, meanwhile, 5-year-old Kylie Meza, dressed in a brand-new Merida dress, only had eyes for Disney's newest princess, as she waited for the requisite hug and autograph. Her closet is packed with princess dresses -- Belle, Cinderella, Snow White -- and her room piled with princess dolls. "It's kind of scary," her mom Monica Reza said, but she doesn't regret one purchase. She credits princess power with helping Kylie through cancer treatment.
Kylie is in remission and feeling fine, her mom said, so her family now has annual passes which they use often to see the princesses. "We just want to keep the happiness alive," Monica said.
And who can argue with that?
(Look for Eileen's new "Kid's Guide to Orlando" out later this fall from Globe Pequot and read more of her Trip Diaries about her recent visit to Disneyland at www.takingthekids.com and also follow "taking the kids" on www.twitter.com, where Eileen Ogintz welcomes your questions and comments.)