Street artist Bansky to open hotel in Bethlehem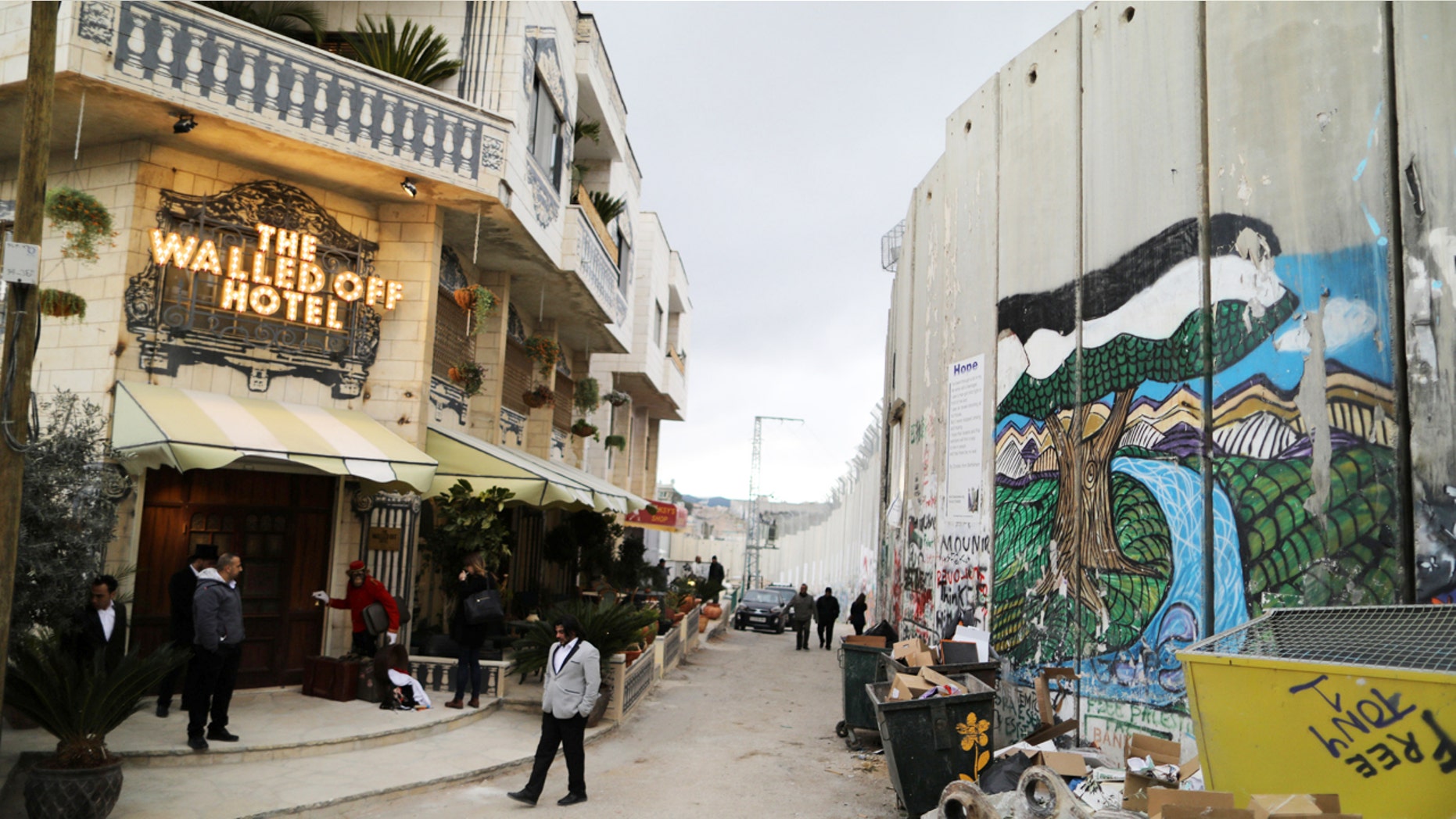 Street artist Banksky is courting controversy with a dose of hospitality. The artist's latest project is a new hotel set to open later this month in the West Bank city of Bethlehem.
The "Walled Off Hotel," a nine-room guesthouse with striking depictions of the ongoing conflict in the region, is entrenched in a political hotspot-- the windows overlook the wall separating the territory from Israel.
Banksy, the anonymous artist known for darkly satirical graffiti and political artwork, has fully decorated the hotel's interior with paintings, sculptures, and various interaction installations.
10 HOTELS WITH EXTREME AMENITIES
One guest room depicts artwork over a king-size bed featuring a pillow fight between a Palestinian and an Israeli citizen. According to the New York Times, the artist (who keeps his-- or her-- real identity private) also incorporates items that echo the hotel's historically political surroundings.
That includes surveillance cameras hung like trophies, a statue engulfed in a cloud that looks like tear gas and another statue showing the signing of the Balfour Declaration-- the 1917 document that details the intent on behalf of the British to create a Jewish homeland in the area.
According to the hotel project, guests who stay at the hotel will enjoy the "worst view in the world." Enjoying said view does come with restrictions, however, including a ban on guests being allowed on the roof. Also: "absolutely no fanaticism is permitted on the premises."
FOLLOW US ON FACEBOOK FOR MORE FOX LIFESTYLE NEWS
It's not the first time a travel-inspired art project at the hands of Banksy has sparked strong feelings. In 2015, the artist unveiled "Dismaland," a dark interpretation of a Disney-like amusement park with a focus on inequality and misery.
The purposely-dreary attraction featured items like a dead Cinderella and a grim reaper in a bumper car. The park, which also featured artwork from more than 50 other artists, closed down after five weeks.
The Walled-Off Hotel will start taking reservations on March 11 with rooms starting at $30 per night. But guests are required to place a $1,000 deposit in an effort to protect the hotel's artwork.