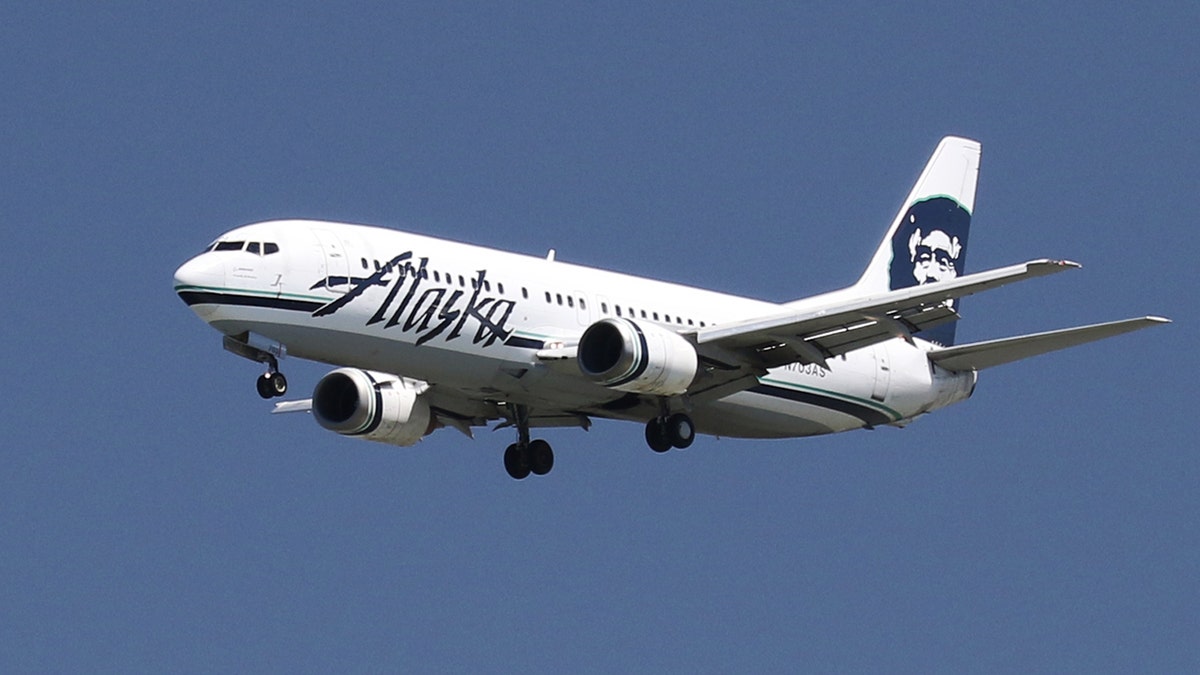 Former Alaska Sen. Johnny Ellis was on board Alaska Airlines flight 107 on May 14 when an unidentified man stripped naked and ran before being tackled to the ground. The Democratic politician has since taken to Twitter to share his side of the story.
"WOW. On my flt from SEA 2 ANC, a completely naked man ran from front of plane to back, yelling and waving. 2 big guys maybe one Air Marshall tackeled him and locked in bathroom. Some fear & distress @ passengers NO word from Cpt or Crew. Waiting now @ gate 4 law enforcement !!" Ellis tweeted that day.
AIRLINE CO-PILOT 'SUCKED HALFWAY' OUT COCKPIT WINDOW, REPORTS SAY
Fellow passenger and Yahoo writer Daniel Roberts voiced similar sentiment, reporting that the incident occurred about 20 minutes before landing.
"Very scary at first. all are okay, many now laughing. guy is restrained in back of plane," he tweeted.
The man was quickly tackled and locked in one of the plane's bathrooms, The New York Post reported. Later that evening, a rep for Alaska Airlines confirmed that the flight went on to land without incident.
DELTA PASSENGER GETS 2 YEARS IN PRISON OVER WINE-BOTTLE BRAWL
Airport police and fire chief Jesse Davis later described the situation to the Anchorage Daily News as "a medical issue."
According to the outlet, Ellis has multiple sclerosis and uses a wheelchair. As he waited to deplane, he reported that the strange scene continued.
"I waited 4 wheelchair & was next 2 last off plane. Police boarded to take naked guy away. We thought drugs not booze. May have been psychotic break since some said guy who chased & tackled was actually his father. Flt attendants were debriefing. Cpt extra nice 2 passengers," he further divulged.
Spokeswoman Bobbie Egan said in a statement the disruptive passenger was removed by law enforcement after the plane parked at the gate, and was then transported to a local hospital. Egan didn't say whether the man was clothed or what led to the incident.
The carrier did not immediately return Fox News' request for additional comment on the story.
FOLLOW US ON FACEBOOK FOR MORE FOX LIFESTYLE NEWS
Oddly enough, the rogue passenger isn't the first to make headlines – or plague Alaska Airlines - for such antics in recent months. In February, a naked passenger forced the turnaround of one of the carrier's trips from Seattle to Anchorage. Weeks later, in March, another rowdy traveler stripped naked, watched porn and attacked airline crew during his Malindo Air flight in Bangledash.
The Associated Press contributed to this report