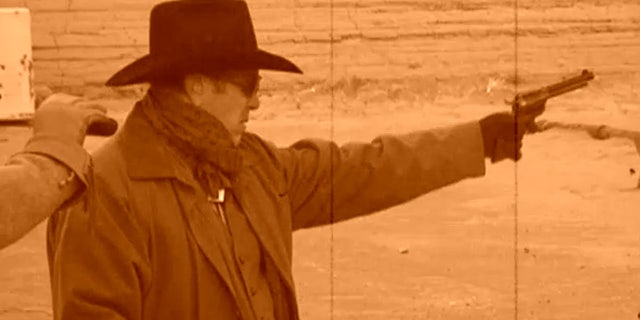 If you ever wanted a chance to shoot like a real cowboy, here's your chance.
Stumble upon the firing ranges of the Fort Bliss Rod and Gun Club and it may feel like a trip back to the Wild West. Every month gun enthusiasts come out for the Judge Roy Bean Shooting Match outside of El Paso, Tex. to take part in a shoot out competition, complete with antique-style guns, specially designed targets and even Western monikers.
"Everybody wants to be a cowboy from when they are a kid. This just gives us a chance to fulfill these fantasies," said shooter Shawn Goggin – better known on the ranges as "Irish Billy Jordan."
The competition has been drawing out cowboys, and a few cowgirls, since the late 1980s -- but recently the sport of Cowboy Action Shooting has become a fast-growing trend. Groups like the Single Action Shooting Society (SASS), which has over 70,000 members, holds public and private competitions worldwide, drawing in Old West aficionados of all guns and stripes.
Members get to play the part by getting special badges and registered alias. While the Judge Roy Bean Shooting Match is not directly affiliated with the SASS, many of its regulars are SASS members.
"It's just fun, excitement, enjoyment, getting to shoot; having a little friendly competition. (You) get to sort of re-enact the movies that we saw, those gun fights that you read about from history," said shooter Nicholaus Kaszczuk.
Here's how it works. At the range, three stages designed by members are set up with targets posted about 30 yards from the shooter. Alternating from four different Old Western-style guns, all modern re-makes from the 1900s, the shooters attempt to successfully hit targets as many times without missing. Participants are judged not only on accuracy, but also speed.
Match director and long time member Ken Smith, a.k.a. "Stumpy Smith," said what separates these matches from other shooting clubs is the way they keep score. Electronic timers measure the time it takes the cowboy or cowgirl to shoot the targets. Each miss adds 10 seconds to his or her score.
"The key is: you want to shoot clean and shoot fast," said shooter Ira Smith, a.k.a JD Kidder. The amount of time to shoot is different at each range, generally one minute. The lowest time recorded wins.
"The real fast shooters get a little flustered at it, trying to shoot at high speed and they miss a lot. Ten seconds a miss adds up pretty quick," said "Stumpy" Smith.
The Old Western guns include two single action revolvers, a double barrel shot gun, and a lever action pistol caliber rifle. These cowboys bring their own guns, and must undergo a safety check before each competition.
Smith (JD Kidder) said this gives him a mix of three of his favorite passions. "I like history, I like shooting competitions, and I like (researching) the guns."
The cowboys said this club is more about shooting old guns. "There's a lot of camaraderie, a lot of fellowship with the other shooters," added Goggin.