Tourists Can Shoot 'Em Up in Vegas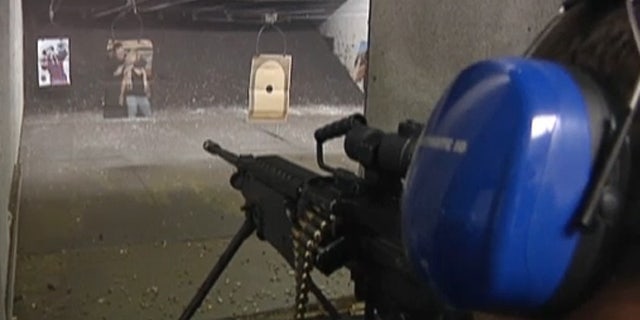 LAS VEGAS – For anyone who ever wanted to shoot a really cool gun, a fairly simple solution (depending on where you live) could be a trip to Las Vegas, where you'll find an array of shooting ranges and antique stores carrying firearms.
One of those Vegas ranges is located at The Gun Store -- a favorite destination for visitors of all kind-- that offers a 15-lane indoor shooting range with your choice of AK 47s, squad automatics, pistols and more.
Plenty of men and women have gone to try out the guns, including regular groups of bachelor parties and celebrities like Ozzy Ozbourne. But The Gun Store also gets lots of international tourists too.
Part of the draw for foreigners is that in parts of the world like Germany and New Zealand, the right to own or even have a gun is way more restrictive.
"It was the first time having a gun in my hand, " said Arif Ayeogen, who was visiting from Germany and fired off a pistol at the range. "I was a little bit nervous, but it was a great feeling."
"It was empowering," said Mark Coker, a New Zealand native who let shots fly with a squad automatic weapon. "You can't do that at home unless you got special licenses, which aren't easy to get."
Tourists --and locals --can choose from a number of packages, including the popular "Zombie Package," where you can shoot Zombie posters with a pistol for $149. You can also pay $60 for 40 shots with a massive M249 Squad Automatic Weapon.
According to Emily Miller, the director of marketing and advertising for The Gun Store of Las Vegas, the range attracts thousands of international visitors a month.
"It's a different kind of facility," said Miller. "We are opening our doors to people who haven't shot before, and with language barriers. We'll welcome you from any country no matter what language you speak. We'll work with you."
And there's no need to worry about your level of shooting experience. The store provides an instructor to help you along the way. But for those who think their "Call of Duty" video game skills will translate into an epic performance at the range, think again my friends.
"'Oh yeah, I shot that in the game,'" said Miller, jokingly imitating gamers who come to the range. "No, no, no. When we put an actual AK-47 in your arms, it's gonna feel different."
But for visitors not interested in shooting firearms and just want to look at some cool old-school guns, hop on Interstate-515 and head on over McManus Auctions in Henderson, Nevada. The antique store holds auctions every weekend that include some of the finest antique firearms around.
You'll find guns like a remake of a U.S. Army Colt pistol, which according to store owner Patrick McManus, was the type used by Wild West legend Wyatt Earp and General George Custer at the Battle of Little Big Horn.
"A gun like this can go for $1,000, even though it's a remake," said McManus.
There's also a remake of a 38-caliber Colt Lightning rifle from the 1800s, a pretty hefty-sized firearm that was once adopted for use by the San Francisco Police Department.
"Can you imagine them now using this at the police department?" said McManus, holding the massive rifle with both hands. "This here is a favorite of cowboys and outlaws."
So whether you're coming from around the block, Europe, or as far as Down Under, a trip to Vegas will no doubt satisfy your need to let the gun shells fly. It's something The Gun Store in Las Vegas is proud to offer.
"Satisfy that urge to shoot a machine gun, get it out of your system," said Miller, "and it will make a great Facebook photo too."
Ayeogen, who shot a pistol on this trip, plans to come back someday to satisfy that very machine gun urge.
"It's my first time here," laughed Ayeogen. "We start of small and then we get a little bit bigger."
For more Las Vegas, check out the FoxNews.com vacation guide >>