Report: 'Love Boat' cruise ship sold for scrap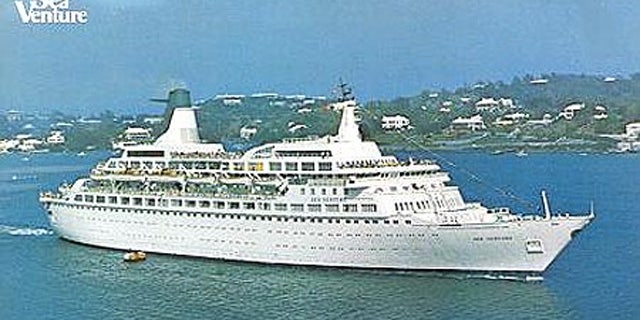 NEWYou can now listen to Fox News articles!
It's splitsville --literally -- for the former cruise ship Pacific Princess, aka " The Love Boat", featured in the hit 1970s and '80s television show.
According to Italy's La Repubblica, after languishing at a dock in Genoa, Italy for more than a year, the ship is heading to the scrapyard to be broken up and sold for scrap metal.
Turkish demolition company Cemsan reportedly bought the ship for just over 2.5 million euro, or about $3.3 million.
Built in 1971 for $25 million for Flagship Cruises as the Sea Venture, the ship was originally built for New York to Bermuda cruise service, reports Maritime Matters. It sailed between Bermuda and U.S. ports for three years, before it was sold to Princess Cruises in 1974, and renamed "Pacific Princess".
The 600-passenger ship, tiny by today's standards, gained fame and recognition as the scene for ABC's "The Love Boat", which aired from 1977 to 1986. The ship continued to sail for Princess Cruises until 2003. After changing hands a couple times, the ship last sailed for Spanish-based Quail Cruises.
Cruise industry experts say the hit show --starring Gavin MacLeod as Captain Stubing and his lovable crew: yeoman-purser "Gopher'" Smith (Fred Grandy), bartender Isaac Washington (Ted Lange) and cruise director Julie McCoy (Lauren Tewes) help popularize the cruise industry during that time.
Other Pacific Cruises ships doubled for the Pacific Princess in some episodes, but most ship-board footage was shot on the former Sea Venture.
The ship's sale came after its owner failed to pay a Genoa, Italy company about $7 million for asbestos removal and refurbishment, the newspaper said.