Plans for Gwyneth Paltrow's swanky private club released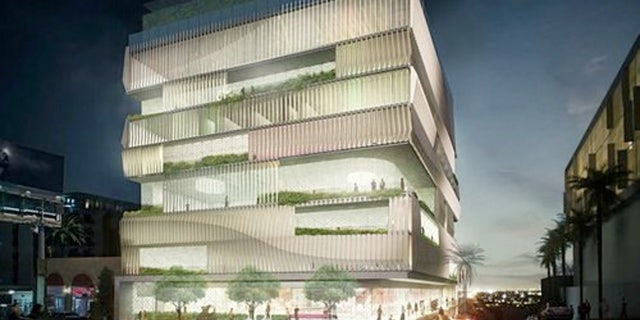 For anyone who has been lucky enough to peek inside London's Art's Club –which boasts of past and current members like Charles Dickens, Gwyneth Paltrow and Kim Cattrall—you may be curious to hear plans are moving ahead for the Los Angeles branch of the private club on the Sunset Strip.
Renderings have been released of the building, which will replace the current Hustler Hollywood store--the retail space of porn magazine tycoon Larry Flynt.
The property, designed by architectural firm Gensler, will feature a spa/gym, an open-air dining terrace, screening rooms, guest rooms, a Japanese/Latino restaurant, a swimming pool and a helipad.
(Gensler)
Paltrow is a major backer of the project as well as developer Gary Landesberg, who together bought the Hustler Store property.
London's Art Club -- a favorite haunt of celebrities such as Beyoncé, Jessie J and Pippa Middleton — is in an elegant 18th century townhouse in that city's Mayfair district and costs $2,000 to join, plus $2,000-a-year dues.
To become a member one must be nominated by an existing member and participate in or have an interest in art, literature or science.
The designs for the new 132,000-square-foot building still needs approval from local officials. But the good news for most of us who can't afford the club, there will be some public spaces, including shops and an art gallery for those who must have a look.