Maryland company sets Guinness World Record for 'largest human mattress dominoes'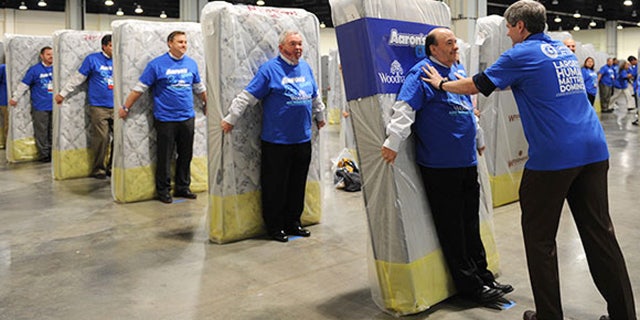 You'll really fall for this video.
On Thursday, Aaron's Inc., a Maryland-based appliance and electronics company, set a new Guinness World Record for the "largest human mattress dominoes" chain with 1,200 participants taking a total of 13 minutes and 38 seconds to complete the larger than life feat.
Event organizers used two exhibit halls covering 70,000 square feet to set up 34 rows of mattresses. The first mattress was pushed over by Aaron's CEO John Robinson.
"Breaking a Guinness World Records title has been a great team building event for the associates we have attending our National Managers meeting," said Robinson at the event.

The event not only broke a world record but supported a great cause. The mattresses used will be donated to homeless shelters and various poverty-related charity organizations in the Washington-metro area.
Aaron's successful attempt broke the previous record of 1,150 participants set by German company Höffner Möbelgesellschaft GmbH & Co. KG back in 2012.