Kentucky motel welcomes woman and horse as guests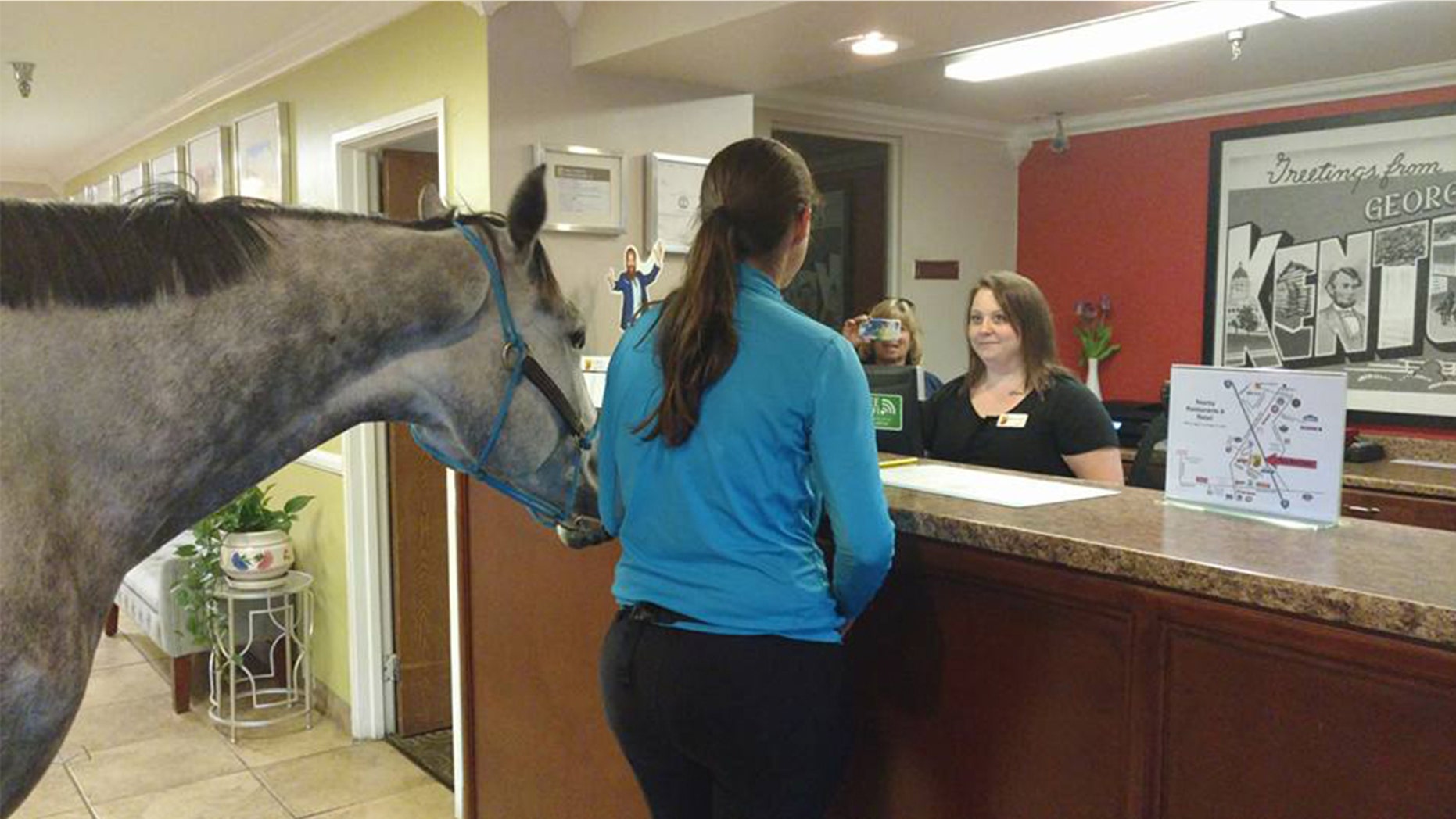 They say there's nothing like the bond between a horse and its owner, and one Kentucky motel evidently understands that better than any other.
On Oct. 4, Lindsey Partridge posted photos of herself on Facebook checking into a Super 8 in Georgetown, Ky., with her dapple gray mare Blizz in tow.
Trekking to the arguable "Horse Capital of the World" from her native Ontario, Canada, ahead of a competition in nearby Lexington, Partridge got the bright idea to first drop off her luggage at the motel before dropping off Blizz at the Kentucky Horse Park, where she'd be staying.
Kidding with Super 8 staffers at the front desk, Partridge asked upon check-in, "My horses are here, will they be allowed in?" To her shock and delight, they said yes, Chronicle of the Horse reports.
CALIFORNIA HOTEL WILL DELIVER 10-POUND DOUGHNUT TO YOUR ROOM
After ponying up a $10 pet fee, Partridge and her horse walked into their ground-floor suite, where the woman sampled the room's cookies and television programs, and discussed their upcoming competition. Of course, a few photos and video of the hilarious situation were snapped, too.
Partridge also told Chronicle of the Horse that she eventually opted to have her horse stay at the Horse Park as originally planned, and loaded her back into the trailer.
8 OF THE WEIRDEST HOTELS AND MOTELS IN THE UNITED STATES
Generally, hotels have strict pet policies when it comes to dogs and cats, let alone equine animals. Nevertheless, according to their website, Super 8 has no official pet policy, leaving it up to the discretion of individual property management to make the call on whether furry family members will be allowed in.
FOLLOW US ON FACEBOOK FOR MORE FOX LIFESTYLE NEWS
A fan of the Harmony Horsemanship style of training, Partridge credits Blizz' calm behavior through their hotel stopover to good training.
"If you have that calm connection, you can take your horse anywhere," she said.