How to get business class food when flying economy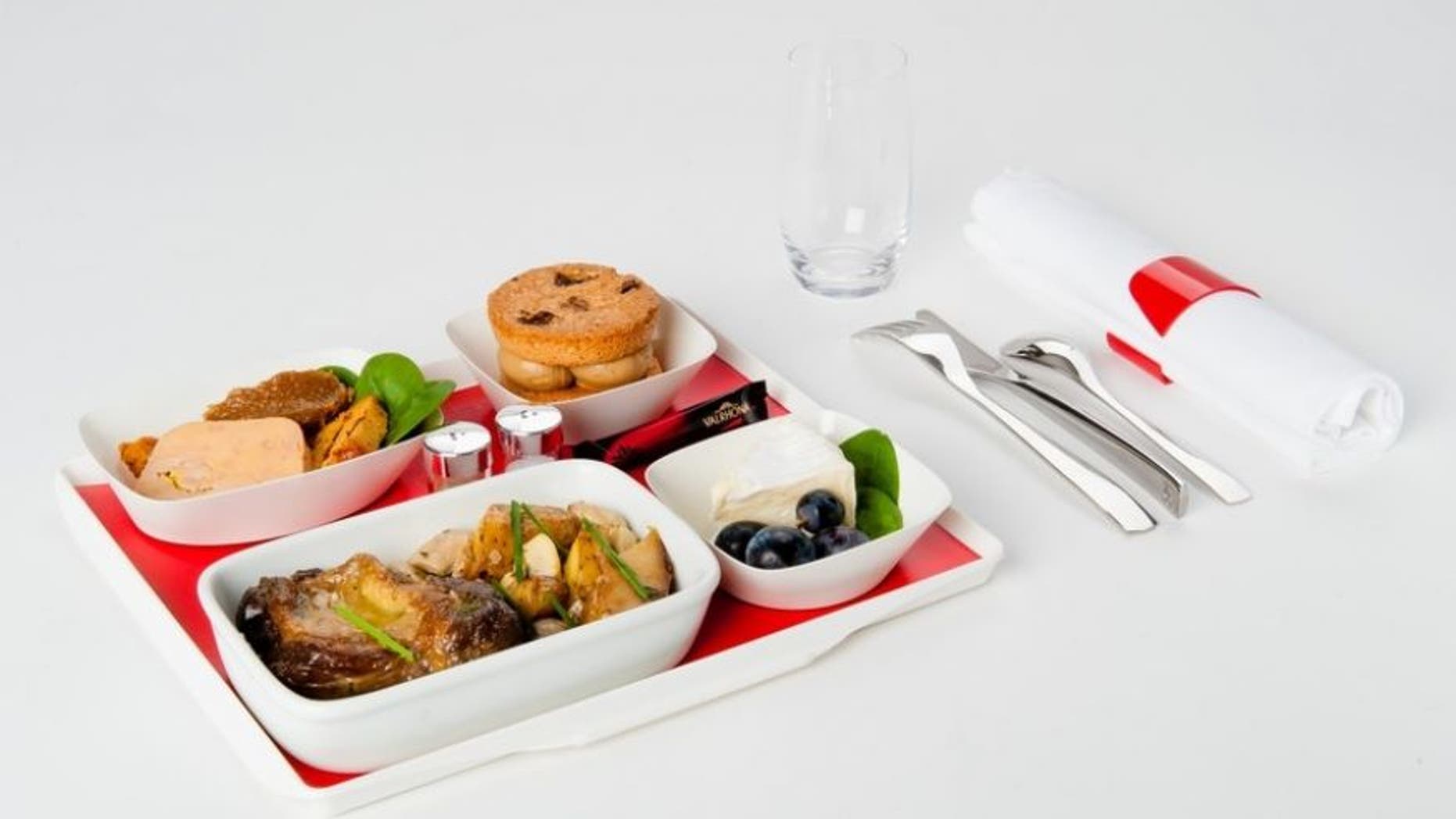 These days, airline travelers on long international flights are finding it harder to upgrade their way out of coach class hell. But that doesn't mean you have to resign yourself to the mystery meat stews that are the lot of those in economy.
What if you could buy just a piece of premium—like, say, a higher class of cuisine?
Lucky for you, several airlines including Air France, KLM, Austrian Airlines, and British Airways are offering just that—a chance to upgrade your menu selection, for a price that's less than what you'd pay in a restaurant. And the notion may catch on elsewhere: Cathay Pacific, known for its Hong Kong-influenced dishes, is reportedly looking at a similar meal-purchase deal.
Austrian Airlines, in fact, is one of the more unusual examples: Instead of the usual in-flight catering services, the airline uses a smaller company for its onboard meals, Vienna-based DO & CO, which also has a well-known restaurant and hotel in the Austrian capital. The airline's "chef on board" program is featured in business class on every long-distance flight, complete with a steward clad in the regulation white jacket and toque; while they're not real restaurant maestros, they introduce the menu to passengers and put the finishing touches on the dishes—and generally give a restaurant-like feel to the cabin.
More From Conde Nast Traveler
For economy class fliers, then, the next best option is order some of the DO & CO meals through its "à la carte" program on flights to and from the Vienna hub. There are nine selections, ranging from full hot breakfasts served in a skillet to hot and cold lunches and dinners; all cost 15 euros, $15.87 at the current exchange rate, and can be pre-ordered and purchased on the airline's website. Among the dinner entrees is the requisite wiener schnitzel, the famous deep-fried veal cutlet, accompanied by a cucumber and potato salad, DO & CO's signature mousse au chocolat, and fresh bread. Also on the menu is another local favorite: Viennese-style chicken in red pepper cream with homemade spaetzle, followed by a mango and lime meringue.
Of course, all passengers in any class get a free meal on long-distance flights, so what's different about these choices? Wilhelm Baldia, spokesman for Austrian Airlines in Vienna, says the à la carte meals offer more variety and generally larger portions than normal economy meals. It goes without saying—but, hey, we'll say it anyway—that the quality is a cut above the standard. And to maintain that quality, the supply is limited: only 15 of these meals can be ordered per flight.
Meanwhile, Air France is continuing its partnership with Jean Imbert, the "Top Chef " winner and an enfant terrible of Paris's dining scene.
Similar to what he dishes out at his L'Acajou restaurant, the meals use ingredients like organic quinoa and fresh herbs and spices, and vary by season. The meals are available for sale to passengers in either economy or premium economy on flights from Paris.
Air France partner KLM also has its own meals available for purchase, with five meal options at 12 euros ($12.70). The "Champagne Delight" option, for example, includes a small bottle of bubbly, herring caviar with mashed potatoes and chives, smoked tuna salad, rib eye beef, and a cherry and cinnamon mousse for dessert. (Both Air France and KLM give fliers the option of paying for the meals with their Flying Blue miles.)
British Airways, for its part, also gives coach customers on long-distance routes a chance to purchase a better in-flight meal, with a decidedly British accent. For example, the "Gourmet" dining option, for £18 ($22.60), includes a king prawn appetizer, a main of "poached king prawns with sliced mushrooms, braised Herefordshire beef cheek with potato mousseline, roasted root vegetables, and Madeira shallot jus," followed by a chocolate ganache bar with passion fruit coulis and crushed toasted hazelnuts for dessert, and a Cheddar cheese and cracker snack.
The "Taste of Britain" meal features Loch Fyne smoked salmon, slow-roasted Wiltshire pork belly, a summer berry pudding with Cornish clotted cream, and the inevitable cheddar cheese and crackers; all for 16 ($20). There's also a "Great British Breakfast" on offer, for £15 ($18.75). Sure beats that sad sandwich you bought at the airport for $12.50.
Looking to live like you're in business class, if only for the meals? All of the dishes on the aforementioned airlines can be ordered up to 24 hours in advance of your flight.
See 9 Business Travel Hacks to Help You Pay For Your Next Vacation