Heathrow Airport throwing royal wedding celebration with free cake, royal trumpeter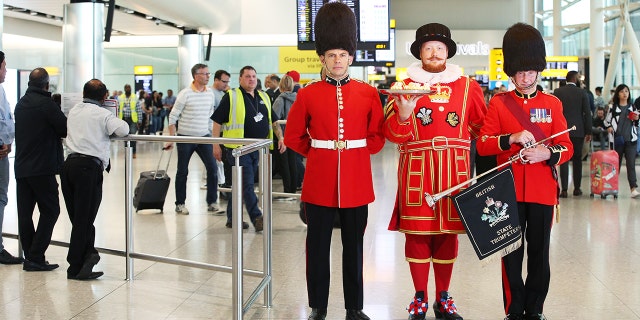 If you're heading to England for the royal wedding but weren't lucky enough to score an invitation to the big event, London's Heathrow Airport wants to make sure you still get a taste of the celebrations.
All passengers arriving at Heathrow Saturday will be greeted with a "royal welcome" inspired by Prince Harry and Meghan Markle's special day.
"The royal wedding has driven an increase in international visitors who wish to experience a uniquely joyful British event. At Heathrow, we're passionate about creating memorable experiences for all our passengers and certainly want our travelers to enjoy the royal wedding celebration in style," Heathrow's Chief Operating Officer Chris Garton said in a statement.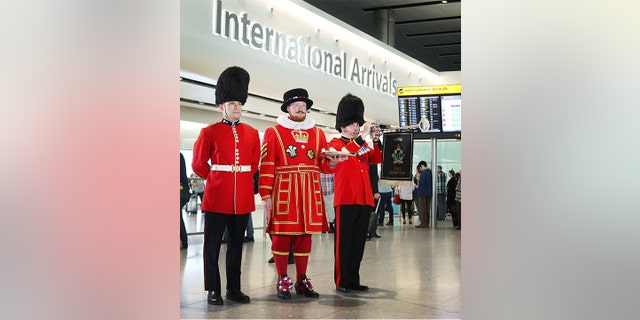 KFC RELEASES 'EMBELLISHED' BUCKET FOR ROYAL WEDDING
People passing through arrivals at Terminal 2 from 10 a.m. to 12:30 p.m. and Terminal 5 from 1:30 p.m. to 4 p.m. on May 19 will be greeted by the sight of a Queen's Guard, a Beefeater (a ceremonial guard at London tower) and patriotic bunting, as well as the sounds of a royal trumpeter.
The airport will also be giving out 1,000 handmade 'royal' lemon and elderflower cupcakes to inbound passengers at Terminal 3 from 10 a.m. to 12 p.m., and Terminal 4 from 10 a.m. to 12 p.m.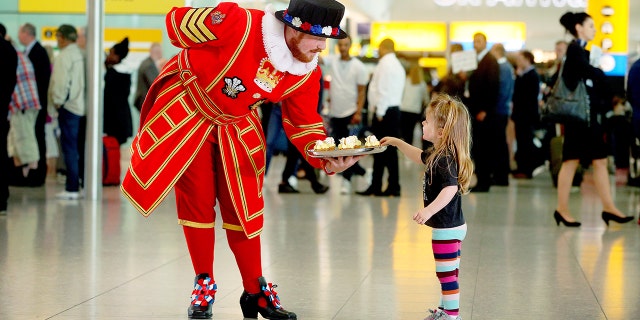 The desserts are the same flavor as Harry and Meghan's royal wedding cake, which was chosen to incorporate "the bright flavors of spring" and will be covered with buttercream and adorned with fresh flowers.
Anyone waiting for a flight during the ceremony won't miss out on the royal wedding either, as Heathrow plans to broadcast the event across all terminals.
British Airways customers flying from Heathrow to Toronto the same day will be able to celebrate the famous duo's pending nuptials 35,000 feet up. Passengers scheduled to fly on BA93 an hour after Harry and Meghan tie the knot will be a part of the festivities with a special crew, themed food and drinks, and royally-related entertainment.
FOLLOW US ON FACEBOOK FOR MORE FOX LIFESTYLE NEWS
The plane, which will depart seven miles from Windsor Castle on its way to the city where Harry and Meghan made their official debut as a couple, will be operated by a 10-person crew made up entirely of Harrys and Meghans.
Passengers on board will receive personal bottles of Castelnau Blanc du Blanc champagne to enjoy alongside their celebratory wedding cakes and will also be able to enjoy episodes of Markle's series, "Suits," as well as documentaries on the royal couple and Windsor Castle for in-flight entertainment.