'Great American Eclipse' one of this summer's hottest tickets
NEWYou can now listen to Fox News articles!
On Aug. 21, lucky stargazers across the country will have a chance to take part in an extremely rare celestial phenomenon: the so-called "Great American Eclipse." The last time a total solar eclipse was visible coast-to-coast happened in 1918, making this a true once-in-a-lifetime event.
From Oregon to South Carolina, the summer eclipse will be partially visible everywhere in North America, according to NASA. However, those hoping to experience full darkness need to be within approximately 70 miles of the "path of totality" — and travel to those special areas is expected to surge in August.
Many space enthusiasts have already planned their summer trips around the event to experience its majestic wonder in full.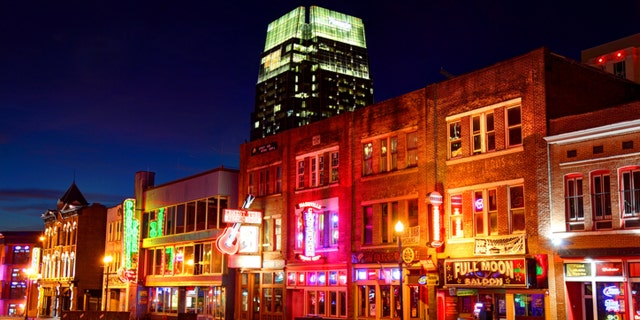 "I have clients in their 80s traveling for the eclipse. Their reasoning is, at their age, it'll be the last one they have a chance to see," Jon Sutter, vice president of business development for travel agency Landings Travel, told Fox News. He has plans to catch the eclipse from Charleston, S.C.
TECH TALK: TRACKING THE TOTAL SOLAR ECLIPSE
States in the path of totality — including Oregon, Idaho, Wyoming, Kentucky and South Carolina — are gearing up for particularly heavy traffic and record crowds.
"We could see up to 500,000 additional visitors in some parts of our state, and we want their experience to be a truly memorable one," said Megan Ronk, director of Idaho Commerce, citing the state's special website created just for the event. Ronk said that Idaho has been coordinating with federal agencies and emergency personnel to prepare for "the expected influx of visitors," including the potential for massive traffic jams.
Oregon is also expecting a particularly heavy turnout. "Oregon is the first in line to witness the Total Solar Eclipse," Linea Gagliano of Travel Oregon told Fox News. "Oregon has the best chance for clear skies during that time of year and time of day, so thousands, if not millions, of visitors are choosing to witness this celestial event here."
Hoping to be in the heart of the action? Plan ahead. Most hotel rooms have been sold out for months — or even years.
"Several cities have special events planned, but many hotels in the pathway of the event are fully booked or have just a few rooms available," Sutter said.
But there are still opportunities for adventurers willing to camp out or stay in a nearby city outside the hot zones. Here are five great places across the country to see the once-in-a-lifetime event.
1. Madras, Oregon
From Aug. 17 through Aug. 22, the tiny town of Madras, Ore. (population 6,533), will be celebrating Oregon Solarfest. A two-hour drive from Portland, this small inland town is expected to view the eclipse at 10:19 am (PDT) for 2 minutes and 4 seconds and, based on its high desert location, weather and unobstructed views, is predicted to be one of the best places in the country to view the eclipse.
While hotels have been sold out for months, those hoping to get a stellar show can still buy tickets to pitch tents or park RVs at Solartown Campground — it's on the center line of the total eclipse, and includes a NASA Official Viewing Site. If you're willing to brave a 90-minute drive, try Lake Creek Lodge hotel, which still has availability.
After the eclipse, head over to the Fairgrounds for the Oregon Solarfest, a three-day lineup featuring more than 20 bands, food and drink, and a Kids Dome with 10 inflatables and games.
HOW TO FIND THE BEST SUMMER TRAVEL BARGAINS
2. Jackson, Wyoming
Wyoming boasts one of the lowest amounts of light pollution in the nation and Jackson is an excellent place to see the sights with one of the best prospects for stellar viewing. At 10:17AM (MT), the total solar eclipse will begin its path directly above the town, with a partial eclipse for the first hour and 18 minutes and then totality at 11:35AM (MT) for 2 minutes.
Since Jackson is a magnet for eclipse hopefuls—with an additional 40,000 people expected to descend on the coveted area—hotel options are limited. Those willing to stay just over the nearby state line in Idaho, however, have a few hotels to choose from, including Teton Valley Lodge in Victor, and the Le Ritz Hotel and Suites, Candlewood Suites, and Best Western PLUS Cotton Tree in Idaho Falls.
Nearby areas ripe for perfect views include Signal Mountain in Grand Teton National Park, Rendezvous Mountain at Jackson Hole Mountain Resort and parking pull-outs along Highway 26, Highway 191, and Highway 89, according to Jackson Hole Traveler. Another ideal—though limited—viewing option is the Snow King chairlift, offering a small number of Big King Passes (purchased in advance) providing scenic lift access, plus unlimited Cowboy Coaster rides, Alpine Slide rides, bungee trampoline access, miniature golf, and the Treetop Adventure Course for after the sun comes back up.
3. Hopkinsville, Kentucky
Billing itself as America's "point of greatest eclipse," Hopkinsville has a slew of events planned for the big day. The eclipse will last approximately 2 minutes and 41 seconds and will begin totality at 1:24 PM (CDT).
While most hotels are sold out, there are a few places with availability as of press time, including the nearby Holiday Inn Express Fort Campbell, the Knights Inn Cadiz, and the CCI Express Inn in Central City. For the big event, the 49 acre Ruff Park is an ideal viewing spot, complete with parking and on-site food vendors, and still has availability, while expansive Orchardale Farm is another perfect location within the path of totality with available tickets.
After the skies return to normal, hit-up the Kentucky Bourbon Mashoree at MB Roland Distillery for a celebration of Kentucky distilleries and their products with live music, food, and local bourbon. Or attend the Monumental Solar Eclipse Festival taking place at the Jefferson Davis Monument, with food vendors, arts and crafts booths, kids games, workshops, live music, and a kids' poster contest, among other events.
4. Nashville, Tennessee
This is the nation's largest city fully within the eclipse's path with the solar blackout expected to begin in Music City at 1:27 PM (CDT). It's expected to last for 1 minute and 57 seconds. While the city is never at a loss for tourists, it's expecting even more for the eclipse.
"We are more than ready with commemorative shirts and viewing glasses," Butch Spyridon, CEO of the Nashville Convention & Visitors Corp told Fox News. "The entire city will be a viewing site, especially the parks and rooftop bars and restaurants."
Luckily, Nashville has plenty of hotel rooms left. For those wanting a historic stay, there's germantown inn, a new six-bedroom luxury hotel in the historic Germantown neighborhood steps from some of the city's best restaurants and shopping. The boutique hotel which opened last winter, is located in a two-story, Federal-style house dating from 1865, and features a private rooftop terrace for guests to take in the unobstructed view. Or stay at Union Station Hotel Nashville, which offers overnight accommodations for two for two nights (Aug. 20 and Aug. 21), plus special eclipse viewing glasses, access to the hotel's exclusive viewing party, champagne to celebrate the event with commemorative champagne glasses, overnight valet parking and in-room Moon Pies and Astronaut Ice Cream.
Music City viewing parties include a knees-up at downtown winery and music venue City Winery, with an Eclipse Viewing Party on its two second-story patios including eclipse-watching glasses, skyline views, house-made wines on tap, and food from Executive Chef Garrett Pittler. Meanwhile, Nashville's yearly Italian Lights Festival is scheduled during this year's eclipse, taking place at Bicentennial Capitol Mall State Park and including four days of food, wine, music, art and Italian traditions.
FOLLOW US ON FACEBOOK FOR MORE FOX LIFESTYLE NEWS
5. Columbia, South Carolina
Calling itself the "total solar eclipse capital of the East Coast," Columbia will experience the eclipse for 2 minutes and 30 seconds, beginning at 2:43 PM (EDT). Unlike many other eclipse-viewing hot spots, however, Columbia still has ample lodgings available, including the Hilton Columbia Center, Aloft Columbia Downtown, Hyatt Place Columbia Downtown, and the Holiday Inn and Suites Columbia.
Spend the morning at the South Carolina State Museum, with an observatory featuring a 1926 Alvan Clark refracting telescope, an antique telescope gallery and a state-of-the-art planetarium. The museum has multiple events planned for the day, including tours of the Robert B. Ariail Collection of Astronomy/Telescope Gallery, planetarium shows, and a Solar Eclipse Totality Party on Monday, Aug. 21, from 12 to 4 p.m. Or check out the Soda City Eclipse Viewing Festival at the Historic
Speedway festival grounds, featuring local live music, food trucks, drinks, shade tents, picnic areas, and a viewing party.
After the sun goes down, the city has a slew of events planned, including Eclipsefest, featuring Foo Fighters, The Police, and Pink Floyd tribute bands, The Grape Eclipse wine, food, and jazz party, and a Total Eclipse Gospel Party.
GreatAmericanEclipse.com has a list of ten places where you can expect stellar views, including Madras, Oregon, Nashville, Tennessee, and Columbia, South Carolina.
According to the site, weather is key. "Any location along the path of totality from Oregon to South Carolina can enjoy good weather on eclipse day, but the western half of the United States, especially from the Willamette Valley of Oregon to the Nebraska Sandhills, will enjoy the very best weather odds."