Government slimdown leaves travelers in a state of flux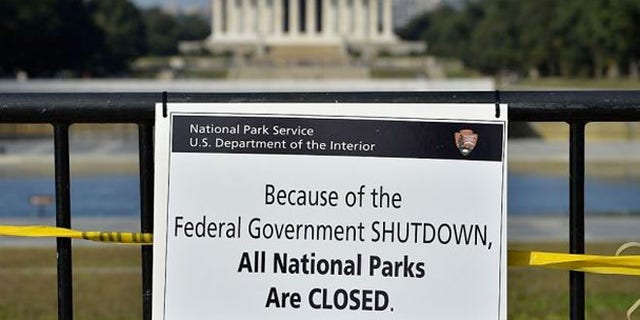 The partial government shutdown has sent some travelers scrambling to make alternative plans, as national parks, historic sites and other tourists sites closed their doors Tuesday. From the Statue of Liberty to the Grand Canyon, hundreds of destinations have been impacted from coast to coast.
Marcy Schackne of Florida is supposed to travel to Washington, D.C. for a friend's wedding at the Newseum in late October. The Newseum, a museum of news and journalism, is a privately funded museum, so it will remain open. But Schackne said if the government slimdown continues, the planned events around the upcoming nuptials could be derailed.
[pullquote]
"The bride-to-be printed up an itinerary for friends and family when they arrive to D.C., but now three-quarters of the locations on the list are closed. What do you do with over a hundred out-of-towners when everything they came to see is closed?" said Schackne.
Wedding guests hoping to visit the Smithsonian museums and the National Mall monuments will be seeing locked gates or barricades instead. And that's not the only bump in the road for the couple. While the ceremony itself may go on during the partial shutdown, the couple will have to travel elsewhere to make it legal.
The D.C. Superior Court, which issues the marriage licenses, is federally funded, even though it isn't part of the federal judiciary. The employees who process the new marriage license applications are considered non-essential, and therefore have been furloughed.
The effects of the partial shutdown could have a huge impact on the travel industry as a whole. State officials estimate that the loss of tourism dollars could be in the million each day. For example, visitors at Grand Canyon National Park alone spend $1.2 million per day, according to a National Parks Conservation Association compilation of Park Service numbers.
"For each day the government is shut down, more than $8 million in economic activity at our nation's hotels will be lost, putting jobs at risk and causing repercussions across many other related sectors," says Katherine Lugar, president and CEO of the American Hotel and Lodging Association, in an interview with Lodging Magazine.
So what does this mean if you've already booked your trip?
Rick Seaney, CEO of FareCompare.com, a site that compares prices for airline tickets, says the good news is that air travel shouldn't be affected.
"Air travel will remain as safe as always and consumers don't have to worry about things such as flight delays. Federal air traffic controllers, TSA screeners, and safety inspectors will remain on the job," said Seaney.
The Federal Aviation Administration's inspectors will be conducting inspections in the field and medical certification for pilots and air traffic controllers will continue.
And while several historic landmarks have closed their doors to tourists, there are many privately owned landmarks and museums that will remain open. Travel experts suggest a quick browse of an attraction's website to confirm if it is federal or private.
Another alternative is to visit state parks. Many state parks offer sights similar to their national counterparts, and will remain open throughout the partial shutdown. The Utah Office of Tourism developed a list of "50 Awesome Alternatives to Utah's National Parks" to get tourists to come visit.
But if your travel plans will take you overseas, you might want to prepare yourself, says Brian Kelly, travel expert and founder of the website The Points Guy.
"What will be affected are passport and global entry enrollment centers. Many in public buildings will be closed down and the wait for a passport could increase dramatically. There was a backlog of 200,000 during the last shutdown," Kelly said of the last government shutdown in 1995-1996 under the Clinton Administration. According to the Congressional Research Service, then between 20-30,000 applications for visas also went unprocessed each of the 27 days the government was halted.
Travel experts encourage travelers to check Travel.state.gov for any updates on delays in passport processing.
As for traveler Schackne, she says the partial shutdown may alter the happy couple's wedding plans, but it won't cancel them.
"You never want to ask a bride about a 'plan B' after she's been planning it for over a year. But they will get officially married in the state of Virginia if they have to. What was supposed to be the D.C. wedding will just turn into a celebration of their love," said Schackne.