Girl's special doll honoring her deployed Army dad found, returned at airport after viral Facebook campaign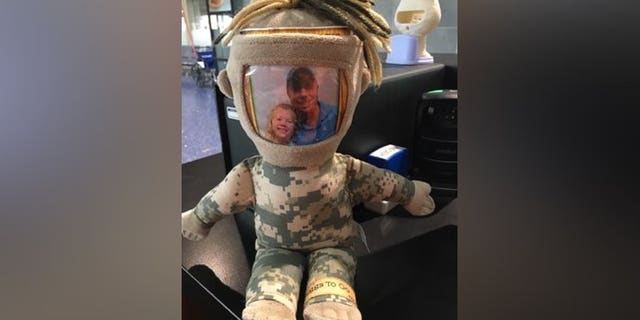 NEWYou can now listen to Fox News articles!
Mission accomplished.
One little girl in Kansas can now rest easier after being reunited with her special "daddy doll" that she cuddles with nearly every night, in honor of her father, who is currently deployed overseas with the Army. The 6-year-old was thrilled to recently have the lost toy returned to her at Kansas City International Airport, thanks to the help of two vigilant women and a now-viral social media campaign.
On March 22, airport staffer Dina Morley was shocked to find the military-inspired doll at the air hub, KMBC reports. She knew the well-loved, camo-printed trinket, featuring a photo of a smiling man and little girl, had to be special.
"I work at valet services by Southwest Airlines," Morley told the outlet. "A customer walked up to me and said she found it on the floor. I kept it at valet services for a few days, hoping somebody would call about it or come back for it, but nobody did."
PRIZE-WINNING SHOW DOG LOST AT ATLANTA AIRPORT REUNITED WITH OWNER
Enlisting the aid of her friend, Heather Parsons, the women took to Facebook and contacted KMBC, asking if the news outlet would help spread word of the lost toy.
Sharing an image of the doll and a bit of background to Facebook, KMBC's post was reportedly shared over 5,000 times within one hour of the story hitting the Internet, racking up hundreds of likes and supportive comments, the outlet states. Better yet, the owner of the doll was soon identified as well – a 6-year-old girl named Katherine Whipple.
Katherine's mom, Army Capt. Eileen Whipple, said that she had feared the doll was lost forever after her daughter misplaced the toy sometime before the family boarded a 6 a.m. flight from the Kansas City airport last week. Katherine's father is an Army major stationed at Fort Leavenworth, according to the outlet, and will return home this summer after being away for a year.
"I was traveling with my 18-month-old and my 6-year-old," Eileen recalled. "We were very, very late and she stopped and started tearing up saying she thought she dropped it. I checked the picture I took of her to commemorate the trip and didn't see it in her arms, so I figured she left in the car or at the house."
FOLLOW US ON FACEBOOK FOR MORE FOX LIFESTYLE NEWS
Luckily, the lost doll has made its way back into her arms, after someone contacted Morley on Facebook and helped make preparations for the Whipple family to pick up the doll at the airport.
"My daddy doll," Katherine said when Morley and Parsons gave her back the special item during the Tuesday meetup.
Eileen said she is grateful that the kindness of strangers led her daughter's doll back into her arms.
"She sleeps with it pretty much every night," the Army captain said. "I would've had a very sad little girl," Eileen said.
CLICK HERE TO GET THE FOX NEWS APP
Reps for the Kansas City airport not immediately return Fox News' request for comment on the story.