From Glam to Wow: Spa Trends for 2012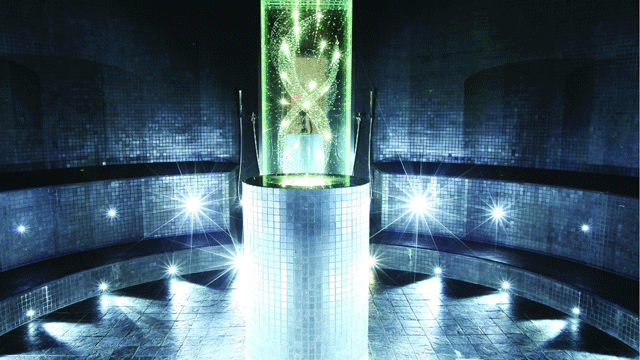 Feeling drained and exhausted after the holidays? Well, it's time to rejuvenate your body and your soul by indulging in a few spa treatments – and we're not talking about your average 60-minute Swedish massage either. In the coming New Year, spas will be going above and beyond to provide patrons with over-the-top experiences that will help revitalize even the most stressed out spa-goer.
We spoke with Susie Ellis, president of SpaFinder, to give us the lowdown on the top trends for 2012 – and at the same time – she also recommended some treatments that will save you money, and more importantly, make you feel pampered.
It's all about the feet:
The human foot is made up of 26 bones, 33 joints, and a network of more than 100 tendons, muscles and ligaments, according to the American Podiatric Medical Association. That's why cruel contraptions like high heels, narrow shoes and flat boots can do a real number on our poor feet, which brings us to the point of spa treatments specially designed for our tootsies. According to SpaFinder's 2012 Spa Trend Report, "spa and wellness centers are now putting a big focus on feet, from 'foot fitness' classes to new 100-percent foot-focused med-spas to podiatrist-overseen 'medi-pedis' to treatments specifically targeting high-heel pain."
Splurge: SpaFinder recommends the "Healthy Feet" program at the Canyon Ranch SpaClub in Las Vegas, which offers a variety of treatments from the "All-Star Treatment for Athletes" for $245.00 to the "Foot Doctor Express" for $80.00.
Click here for more information about Canyon Ranch.
Bang for your buck:  Check out the beauty aisle of your local drug store and you're bound to come across an array of foot products from scrubs to lotions. Ellis recommends picking up some Biofreeze or a foot care product from Gehwol. Also, the "Foot Waker Kit" from Yamuna will help "rebuild your healthy foot function" for just $61.95. The kit comes with a DVD and a pair of "foot wakers."
Click here for more information.
Brrrrrrrr: Cold and ice treatments:
Forget the steam rooms, saunas and hot-stone massages – it's all about getting chilly in 2012.
"We talk a lot about hot treatments in spas, but we're seeing a lot more to do with cold treatments from cold rooms to snow showers and the idea of contrast therapy where you go from warm from cold," Ellis told FoxNews.com.
Ellis said to look for more "pure cold-rock massages" as well as ice-snow rooms or "igloos" at spas around the world. For example, the Qua Baths & Spa at Caesars Palace in Las Vegas features an "arctic ice room" where snow falls on you while you relax on heated benches in a room surrounded by glass tiled walls.
Splurge:  The Sparkling Hill Resort & Spa in Canada, named because of its "crystal architecture" (the building is outfitted with more than 3.5 million Swarovski crystals) offers a cold sauna treatment (cryotherapy) where a brave soul endures three minutes in a  room set to – 166 degrees Fahrenheit wearing just socks and a bathing suit. Yikes! It costs $40.00 for initial treatment or $300.00 for 10.
Click here for more information.
Bang for your buck: Buy an eye mask and put it in the freezer. They are cheap and provide instant relief and reduce swelling. Ellis also recommends slicing up some cucumber and putting it on ice. Once the slices are cool, lay them over your eyes, take a deep breath and relax.
Vibration, sounds, music, light and color therapies:
The soft lighting, the relaxing music of a trickling stream in the background – spas have always used sound, music, color and light in the past, but now "they're often becoming the main event," according SpaTrend's research.
Spas are now offering a variety of high-tech treatments that range from "Zen Sound Therapy" sessions to "VibraAcoustic" baths "that broadcast sound waves through the water, all choreographed to music." There's even software that out of Italy that "creates real-time treatment music (with tones, beats and sounds like wind rustling and rivers flowing), directly generated by the therapist's hand movements and the client's bodily responses."
Splurge: At Arizona's Miraval Resort & Spa, they offer a unique therapy called "Taiz Sensorium," that combines "vibrational medicine, music ther­apy, gentle human touch and aromatic oils to fully engage the full spectrum of senses." A 50-minute sessions costs $250.00.
Bank for your buck: "This is another one that can be easily done at home because there now quite a few DVDs and recordings that are specifically designed for relaxation or energizing," Ellis said. Pick up a relaxation CD or place red cloth over a lamp to cast a red shadow over the room.
"If you want to have a more energizing room experience, you would add red. If you want something more relaxing, you would perhaps do blue," Ellis added.
The "Glam Factor"
"I like to use the term 'glambition', which is the idea of glamming something up just for fun, or just a little bit of spark," Ellis said.
And spas and salons are catering to people all over the country who want to look polished from head-to-toe. For example, the chain "Drybar" is giving customers what they call "the best blowouts in town." For just $40.00 you'll get a wash and a blowout. It's the perfect way to get glammed up without breaking the bank.
Along the same lines as Drybar, Ellis and her team also recommend Blushington Makeup Beauty Lounge in Los Angeles (adjacent to Drybar), which offers a full face makeup application for just $35.00.
"The spa and beauty industry is working overtime to invent ways for beauty-seekers on a budget to more quickly, more cheaply, and more often change up their looks and hair with high-impact little beauty fixes and frills," Ellis and her team said in their annual  Spa Trend Report.
Splurge: Spa Martier in New York City offers a 24K Golden Veil Spa Manicure & Pedicure where you "experience twice the luxury with a genuine spa manicure and pedicure treatment infused with the magnificence of 24K gold. A manicure will cost you $80.00 while a pedicure will run you $125.00.
Bang for your buck: This could be as simple as having your nails done with a "really cool leopard skin kind of a look or a specific color that has some sparkle in it," Ellis said. "And these are glam options you could do it at home or at the local nail salon.
The "Wow Factor"
"This is the idea of something unusual and it could be a 'wow' in terms of spa design," Ellis said. "But sometimes just a little 'wow' can be something interesting and fun. For instance, there's a spa in Austin, Texas called Travaasa that offers mechanical bull fitness classes. This is a 'wow' factor because it's something unique."
Ellis added that the whole "unique" aspect we're seeing crop up is due to the fact that there are so many spas. To give you an idea, there are 22,500 spas across the U.S., which is more double the number of Starbucks, and globally, there are more than 72,000.
Splurge: Sometimes a 'wow' factor can come in the form of a design. For example, at the Coqoon Spa at Indigo Pearl in Phuket (Thailand), spa-goers get up and close in personal with nature by hanging in "The Nest", which is a "luxurious wicker tree house hanging from the branches of an ancient banyan tree." If that wasn't enough, the individual spa "coqoons" have private pools, rain showers and saunas. Prices vary.
Bang for your buck:  Channel your inner cowboy at Travaasa in Austin, Texas. When you book your stay at the hotel, breakfast and variety of daily activities are included, so jump on that mechanical bull and show them what you've got. Queen rooms start around $225.00 per night.
"After four tough economic years that made experimentation challenging, we are seeing the industry once again pushing the envelope with exciting ideas, delivering more wows, more fun, and quite serious wellness innovation," Ellis said in the Spa Trend Report press release.