Dollywood offers all the good old-fashioned, country fun a fan could want
Pigeon Forge, Tenn. – The "Fox and Friends" All-American Road Trip is kicking off at Dollywood in Pigeon Forge, Tenn., at the base of the Great Smoky Mountains. And just like the iconic music of its namesake (the great Dolly Parton, of course), it offers something for everyone.
Like rides? Dollywood has more than 40 to choose from. I thought it would be a good idea to check out some of their roller coasters, and I soon found myself soaring through the picturesque Southern sky on "Wild Eagle," the park's signature coaster. Oh — it also features a 135-foot drop, plus a lot of upside-down stuff. Let's just say the coaster won — and we'll leave it at that.
HOW TO GET STARTED ON YOUR OWN FAMILY-FRIENDLY RV ADVENTURE
But you can't think of Dolly without thinking of music, and the Park has tons of opportunities to hear some. I headed over to the Pines Theater for the "Dreamland Drive-In" Show, a blast from the past taking the audience through decades of good 'ol American songs. The musical was fantastic, and really something the whole family can enjoy.
Speaking of music, roaming throughout the park are the Gemtones, an a cappella group that decided I should try entertaining the Dollywood crowd with my own version of… umm… song and dance. (I now offer my sincere apology to anyone within ear- or eye-shot. You are good people trying to enjoy a vacation; you didn't deserve what I put you through.)
One thing everyone will love, however, is the park's signature Cinnamon Bread, baked up in fresh batches at the Grist Mill. In fact, all types of fun food can be found at the park, but the scent of cinnamon bread was just too much to pass up.
FOLLOW US ON FACEBOOK FOR MORE TRAVEL NEWS
If you're looking for the perfect souvenir, head to the park's glass-blowing shop. Not only can you purchase some fantastic keepsakes, but you can actually help blow the glass while the shop's experts do the hard work of shaping and forming your item in a 2100-degree oven. Your masterpiece will be cooled and ready in a few hours, or they can ship it right to your door. I made a red, white, and blue Christmas ornament. (Go USA!)
And, or course, you can't leave without spending some time at the Chasing Rainbows Museum, a collection of Dolly Parton's personal items, awards, clothes, magazine covers, and so much more.
If you're a Dolly fan, this place is heaven.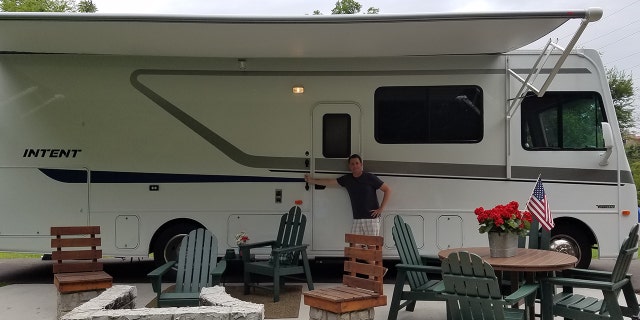 Tune in to "Fox and Friends" next Thursday morning to find out where the All-American Road Trip is heading next!