Doctor claims Republic Airline attendants racially profiled her on flight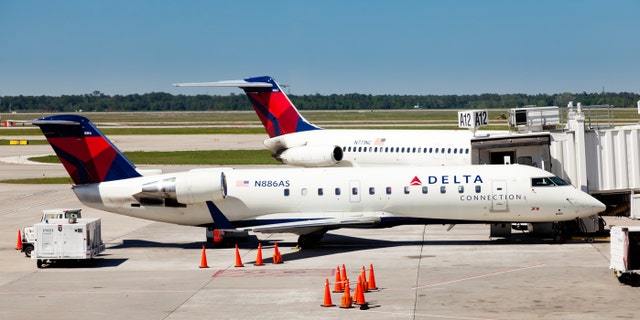 A black doctor onboard a flight with Republic Airlines, a Delta Connection carrier, from Indianapolis to Boston on Tuesday is claiming the flight crew racially profiled her while she was trying to assist another passenger experiencing a medical episode.
Fatima Cody Stanford, a doctor and educator at Massachusetts General Hospital and Harvard Medical School, was sitting next to a woman on the flight who began to convulse and hyperventilate, The Boston Globe reported.
'DISRUPTIVE' DELTA PASSENGER GETS FLIGHT DIVERTED TO MAINE
Stanford said she immediately started trying to help the passenger, when she was questioned by a flight attendant about her medical credentials.
Stanford said she handed the attendant her medical license and was asked, "So, you're not a head doctor?" as a response.
Another flight attendant then approached her, according to Stanford, asking for her to prove she was a doctor — a request against Delta's no-credential policy put into place by the airline in 2016, after a black female doctor was not allowed to help a passenger in distress because the flight attendant allegedly did not believe she was a medical doctor.
DELTA PASSENGER ALLEGEDLY ASSAULTED FLIGHT ATTENDANT, TRIED TO BREAK INTO COCKPIT
Stanford said the second flight attendant asked, "This is your license?" before going to the back of the plane.
The flight attendants did not stop Stanford from helping the woman, who said she was having a panic attack and feeling claustrophobic, but Stanford feels their repeated questioning about her medical background was "100 percent racially biased."
"@delta I am very disappointed that your policies on #Diversity have not lead to any change. As a #blackwoman #doctor who showed my #medical license to help a passenger on DL5935 your #flightattendant still did not believe I was a #Physician. @DrSinhaEsq @DrKathyHughes," she wrote on Twitter.
Delta responded to Stanford on Twitter, apologizing for the incident — a response the doctor called "underwhelming."
To Fox News, Delta said in a statement that the airline was thankful for Stanford's actions.
"We thank Dr. Stanford for her medical assistance onboard Republic flight 5935 IND-BOS, and are sorry for any misunderstanding that may have occurred during her exchange with the in-flight crew."
FOLLOW US ON FACEBOOK FOR MORE FOX LIFESTYLE NEWS
According to The Boston Globe, the airline followed up with a reply to Stanford to apologize again for the actions of the flight attendant.
"Please accept our apology for the events you described. We are grateful to our customers who extend kindness and care to one another and who offer to assist customers in need. The experiences you've described are not reflective of Delta's culture or of the values our employees live out every day."