'Disruptive' Delta passenger gets flight diverted to Maine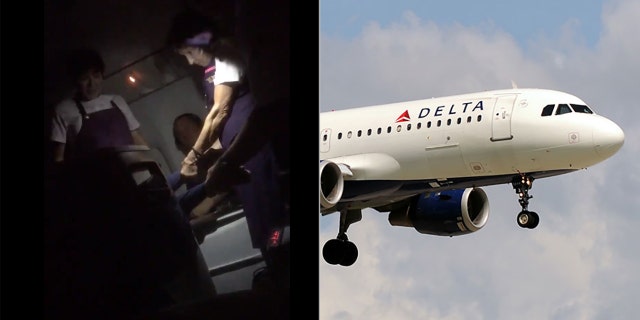 A Delta Air Lines flight from Georgia to Stuttgart, Germany, was diverted to Maine on Sunday after a passenger "got a little disorderly" midflight, according to a fellow traveler.
Delta passenger Tyler Hunter, of Atlanta, shared footage on Twitter of what appeared to be a woman sitting on the floor of the cabin, with surrounding crew members attempting to get her to return to her seat.
WARNING: Clip contains graphic language.
"What are you doing?" a man's voice can be heard asking the woman. Someone also tells the other crew members, "[We] need to notify the cockpit," and then tells the woman she'll be removed from the flight if she doesn't return to her seat.
"Let's go to your seat, damn it," a man's voice can be heard saying.
BRITISH AIRWAYS PASSENGER CLAIMS HE SAT IN URINE: IT WAS 'DISGUSTING'
Crew members were also seen holding the arms of the woman, who didn't budge during the minute-long clip.
Delta has since confirmed to Fox News that the footage of the "incident with a disruptive passenger" was taken aboard Flight 116 from on Sunday evening.
"The aircraft was met by local authorities, and the passenger deplaned the aircraft and was taken into custody. The aircraft resumed its flight to Stuttgart and arrived approximately two hours behind schedule," the airline told Fox News.
"Delta applauds the professionalism of our flight crew in managing the situation, and apologizes for any inconvenience to customers aboard Flight 116."
FOLLOW US ON FACEBOOK FOR MORE FOX LIFESTYLE NEWS
The passenger, identified as 44-year-old Judith Rodriguez of South Carolina, was also charged with assault upon landing, WBAI reports.