Boy in China captured on X-ray riding conveyor belt through train station security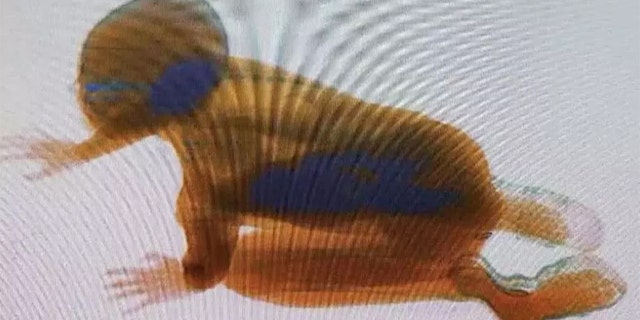 A boy in China was captured on X-ray after he climbed into the scanning machine at a train station security checkpoint.
Police released the image of the child crouching on his hands and knees as he moves along the conveyor belt at Xiaolan railway station in southern China's Guangdong province. The incident took place on Oct. 9, according to The Daily Mail citing the Guangzhou Daily.
MICHIGAN PHOTOGRAPHER CAPTURES STUNNING PHOTO OF MYSTERY COUPLE'S PROPOSAL AT YOSEMITE, ENLISTS HELP OF INTERNET TO IDENTIFY THEM
Father and son were passing through the checkpoint when the boy decided to go through his own way. As the father went ahead, the child reportedly evaded staff and climbed into the machine.
Surveillance footage shows the father looking around when he realizes his son isn't right behind. Then the boy soon pops up on the exit side of security as he emerges out of the X-ray tube.
After explaining the incident to a security guard, the man and his son were allowed to leave. The Guangzhou Railway Police issued a statement warning parents that "when entering the station, they must take care of their children to avoid danger," Newsweek reported.
A similar incident occurred at anther train station in China last year. A woman who didn't want to let go of her handbag followed it through the X-ray machine at the Dongguan Railway Station.
FOLLOW US ON FACEBOOK FOR MORE FOX LIFESTYLE NEWS
Security footage shows the traveler riding down the conveyor belt and getting out at the other end with her belongings.
X-ray images show the woman kneeling on all fours among the heap of luggage as she rides through with her purse, which she reportedly wanted to "guarantee" stayed safe.