Amazing photos from movie buffs that travel world to shoot film locations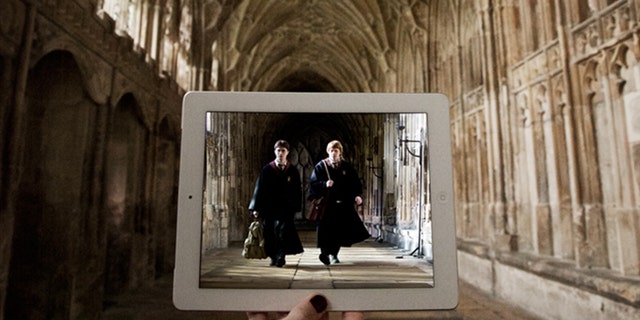 Traveling to locations where films were shot has long been a favorite pastime for film buffs.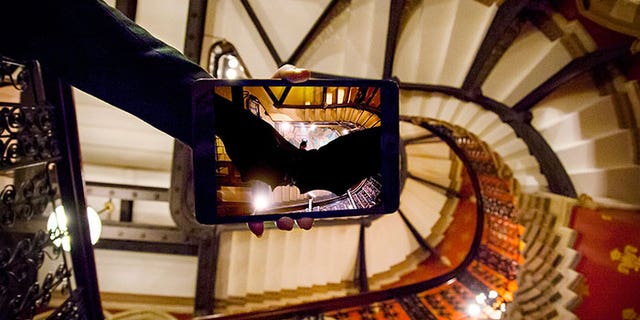 But for Tiia Öhman and Satu Walden, two avid travelers from Finland, trekking to film sets has become a way of life. The duo has traveled almost 10,000 miles and visited almost 150 different locations where over a dozen popular film and television shows were shot. But what makes their journeys different, is the way they catalog their travels.
Standing at the exact location where the movie or show was shot, they take a photo of themselves holding up an iPad or iPhone with a screen shot from the film. The result is magical and leaves fans trying to guess the film and its location.
The two women started a digital diary of their travels, Fangirl Quest, to regularly keep fans in the loop-- along with their regularly updated social media accounts.
Öhman and Walden continue to travel the world and have used crowdsourcing to help partially fund for their adventures (the duo has some fan girls-- and guys-- of their own).
FoxNews.com spoke with Öhman about her unique trips to learn more about what it means to be a true Fangirl.
FoxNews.com: How did you come up with the idea to travel to filming locations and place a digital screenshot against the landscape?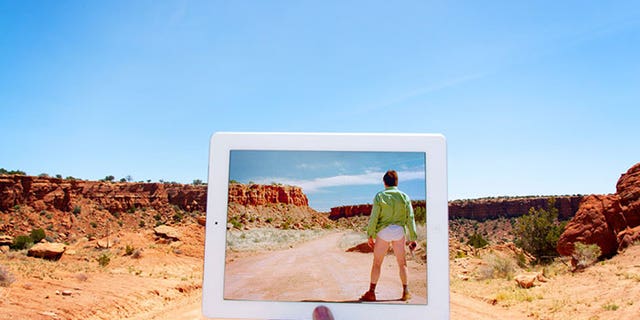 Tiia Öhman: Originally, I wanted to do it with printed photos and prepared a bunch for our first trip, then forgot them home and almost gave up with the whole thing. However, we happened to have Satu's iPad with us and decided to give it a go. Technically, taking a photo like this is much harder with the iPad (what with all the pesky reflections), but there are bonus sides to it too compared to paper photos. Plus, it became our thing after the first photos so there was no going back!
FoxNews.com: Tell us a bit about your first trip.
Tiia Öhman: Being huge fans of TV and movies, we decided to travel to a few filming locations in the UK in the summer of 2013. We looked up some cool locations and started planning car rentals, hotels and routes. Pretty soon our "quick trip" from Cardiff, Wales had turned into a 2,000 mile roadtrip up to Scotland and back. That's when the whole thing started.
Our very first destination was Barafundle Bay in Wales (best known to us from a beautiful film called "Third Star" (starring Benedict Cumberbatch), and from there on, several "Doctor Who", "Sherlock" and "Merlin" locations all around South Wales. We drove through Snowdonia (in Wales) visiting places mentioned in the King Arthur legends, stopped at Hadrian's Wall (in northern England) that is said to be the inspiration for the wall on "Game of Thrones", and finally, admired the famous Harry Potter bridge (Glenfinnan Viaduct) in Scotland.
During that trip we realized how visiting filming locations is the perfect way to see places you wouldn't necessarily find in ordinary travel guides.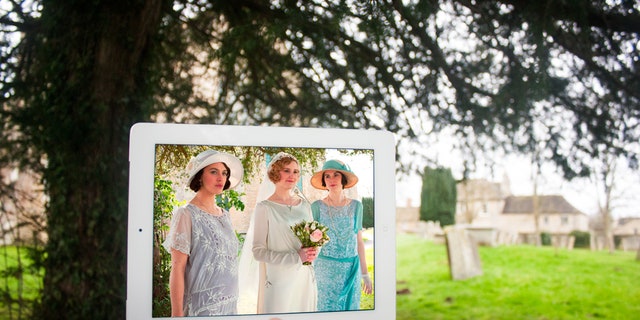 FoxNews.com: Have you ever visited a place that appeared different in real life than it did on the screen?
Tiia Öhman: After visiting so many locations we always know to expect something different, usually something less. Movie magic is fun that way, so no big surprises there. Instead, the biggest surprises are the locations that look almost exactly like they did on film. There's the J. Paul Getty Museum in L.A. (Starfleet HQ in "Star Trek Into Darkness") and several spooky 'Walking Dead' locations in Atlanta. I mean, that was incredible. Riverview Hospital, an abandoned mental facility in Coquitlam, British Columbia in Canada was so fascinating that we drove back there three times. They've used that one on "Supernatural," "Smallville," "X-Files" and several other shows and films.
FoxNews.com: How much money have you been able to raise for your travels?
Tiia Öhman: Mostly, we pay for our travels ourselves. We've had to prioritize heavily, though, so when other people pay for their hobbies and cars and mortgages, buy clothes and go to the hairdressers, we skip all that and put it towards car rentals and bed and breakfasts. But even with prioritizing, we couldn't have funded a 7,500 mile roadtrip across North America, so we crowdfunded that on Indiegogo with some help from our lovely followers. We raised a little over $10,000 within two months.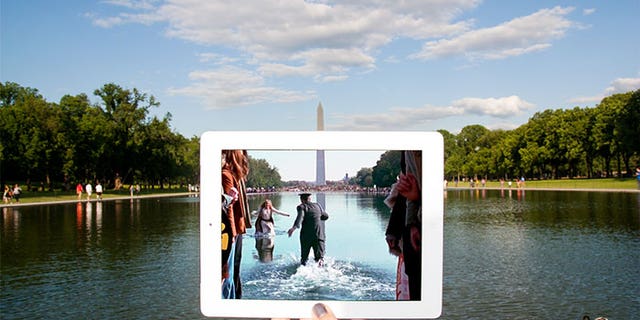 FoxNews.com: Next places you can't wait to get to?
Tiia Öhman: We'd love to go to New Zealand for "Lord of the Rings" and "The Hobbit," and Croatia for more "Game of Thrones" locations. But to be honest, we miss Vancouver and Atlanta so much that we'll probably end up going back there sooner rather than later. Well, as soon as we've prioritized enough to make it that far!
Here are a few places Fangirl Quest has traveled so far:
--'Doctor Who' - Cardiff, Wales
--'Game of Thrones' - Ballintoy Harbour, Northern Ireland
--'Harry Potter' film series - Gloucester, UK
--'Les Miserables' - London, UK
--'Sherlock' television show - Bristol, UK
--'Star Trek' film series - Los Angeles
--'Supernatural' - Vancouver, Canada
--'The Walking Dead'- Atlanta, GA
--'War Horse' - Castle Combe, UK