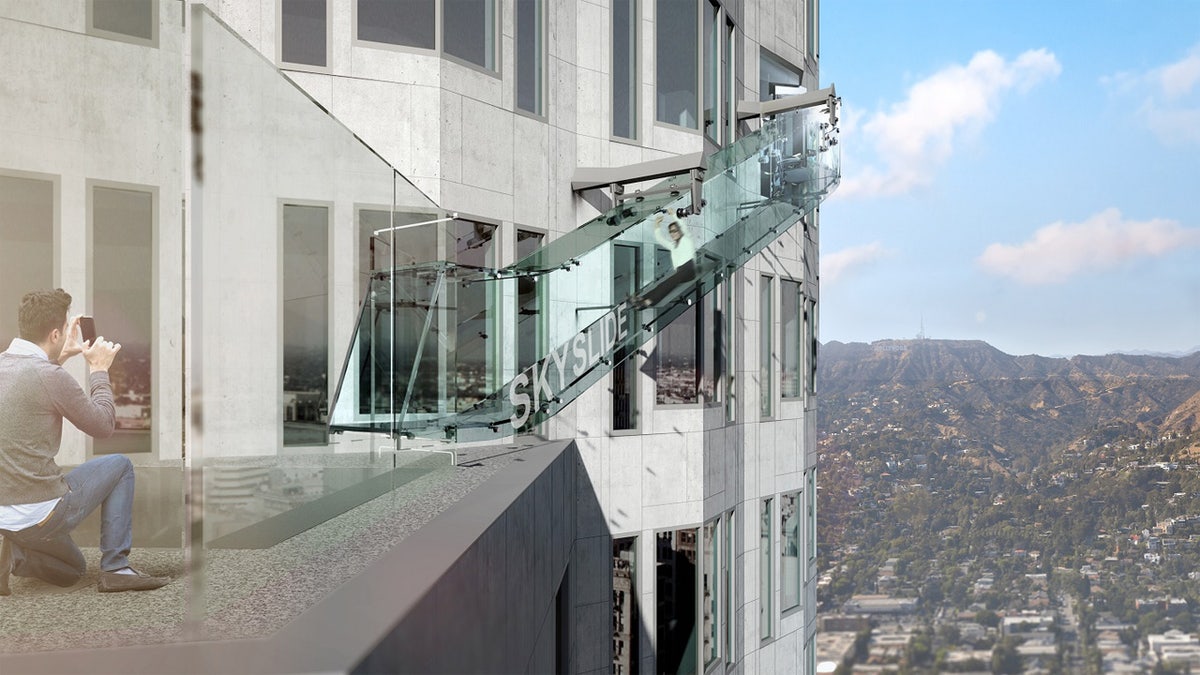 If you're afraid of heights, stop reading. As of June 25, the city of Los Angeles will boast a most unique attraction: a glass slide that hangs 1,000 feet above it, attached to the side of what has been the West Coast's tallest building since 1990.
The US Bank Tower is about to lose that honor to the Wilshire Grand, notes Gizmodo, but it's not planning to lose its place in the spotlight.
The US Bank Tower clocks in at 72 stories, and the building's owner intends to install the opening of a 46-foot-long glass slide on the 70th floor.
It's the brainchild of architecture firm Gensler and Singapore-based OUE Ltd., which bought the building three years ago and is sinking $50 million into a rehab of it.
You can pay $25 to enter the new rooftop complex—OUE Skyspace LA will also contain a bar and observation deck—and then another $8 to scoot your way down to the 69th floor, reports the Los Angeles Times.
The slide will be 4 feet wide and made of 1.25-inch-thick glass. Curbed Los Angeles notes that one rendering of the Skyslide "shows a totally calm person casually moving through the slide with arms overhead like this is merely Splash Mountain and not an $8 near-death experience." CNN notes it joins a number of similarly see-through attractions in the US, such as the ones at the Willis Tower and Grand Canyon.
But is Skyslide scarier than this glass tourist attraction?
This article originally appeared on Newser: Not for the Faint of Heart: Glass Slide 1K Feet Over LA
More From Newser