9 awesome adventures in Hawaii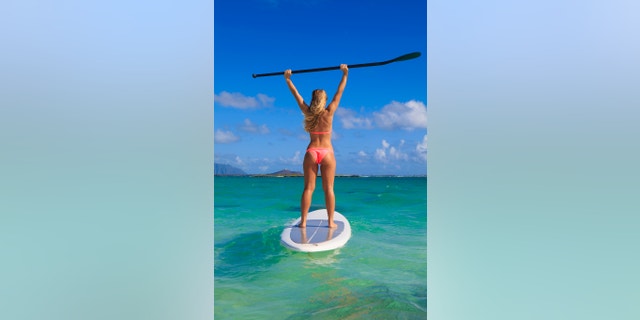 With thousands of spas and luxe hotels, Hawaii is the ideal for seriously peaceful rest and relaxation.
But it's also a great launching pad for crazy adventures that cater to thrill-seeking tourists. There are show-stopping natural wonders, from towering sea cliffs, to rain forests and fire-spitting volcanoes.
"Hawaii is an adventurers' paradise due to our ideal year-round weather and the huge menu of adventure options," says Cesare Lucente, an adventure expert with Outfitters Kaua'i. "Our air and water temperature is very consistent year round, so there is never a bad time to come. You can go out for a surf session in the morning, a hike in the afternoon followed by a sunset kayak all within a few square miles."
Lucente has a soft spot for Kaua'i, which he's called home for the past 16 years.
"I love the ocean and mountains, and when I arrived here I immediately fell in love with the place and the fact that it had both. Plus, it has the only navigable rivers in Hawai'i," he says. These rivers give access to the interior rain forests of the island via kayak or SUP board."
There's so much to do, it can be overwhelming. Don't worry, though, we did the research for you. Here are a few excursions to add to the bucket list.

1. Ride in a chopper without doors.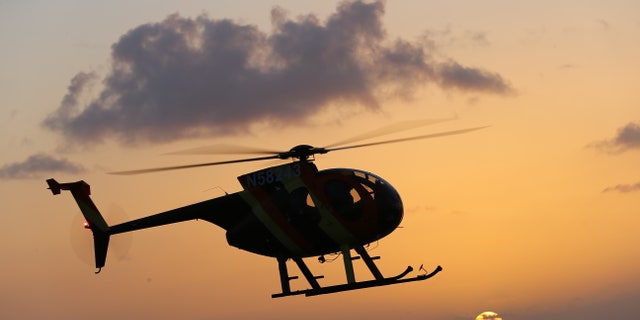 O'ahu
Snag a bird's-eye view of the world famous North Shore from the seat of a chopper. During the 30-minute sunset flight you'll spot surf breaks, the towering Ko'olau Mountains, Haleiwa town and Kaena Point. Bump it up a notch by taking the doors off. Or sign up for the "Magnum P.I." tour where you fly the same route seen in the opening sequence of the show. You'll go offshore above the ocean and swing past iconic spots. Flights take off from the famous Turtle Bay Resort.
Cost: $249 per person for a sunset tour (extra $25 to take the doors off)

2. Swim with (a lot of) sharks.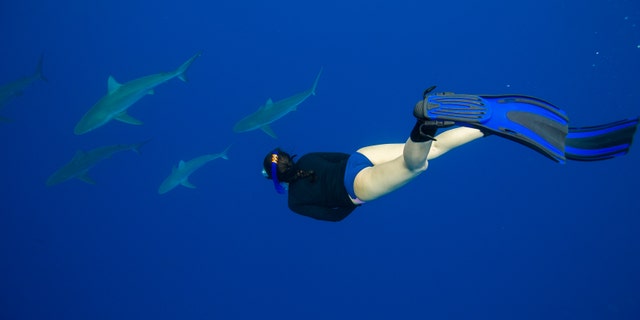 O'ahu
If you've ever wanted to play marine biologist for the day, here's your chance. One Ocean Diving gives guests the unique chance to swim with sharks while marine biologists on the tour help identify the sharks and collect data. No chum is used--and no cages either. Instead, it's all about natural and positive interactions with the creatures. Nothing beats seeing these amazing animals up close in their natural habitat.
You may spot anything from Galapagos sharks to tiger sharks to hammerheads. If you're lucky, you might even see a whale shark-- Hawaii is shark-lover heaven. On the boat, you'll learn about protection efforts and tons of information on these apex predators. If you don't love sharks, this trip could certainly change your perspective. You'll see that humans really aren't on their lunch list (Note: There are two safety divers in the water with you at all times. They have a 100 percent safety record and have been working with sharks and humans for the past decade.).
One Ocean Diving
Cost: Starts at $150 per person (add GoPro footage for $50). If you aren't ready to hop in the water with them, just go for the boat ride for $80.

3. Try ocean paddle boarding.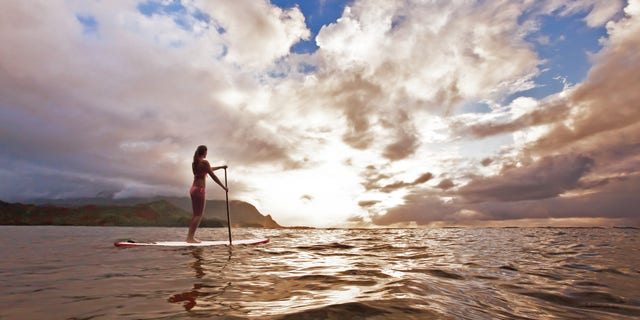 Kaua'i
One of the best ways to get to know Kaua'i's teeming marine life is by skimming across its waters. Rent a stand-up paddle board at the ultra-luxe St. Regis Princeville. Paddle until your heart is content, and when your arms need a break, take a seat and soak up the scenery and sounds. Afterward, grab a bite to eat poolside, or sit underneath the shade of a Kamani tree. For more relaxation, try the deep-tissue treatment at the 10,000-square-foot spa.
St. Regis Princeville Cost: $40 for first hour, $20 per hour after that; or $150 for whole day.
4. Rent an outrigger canoe.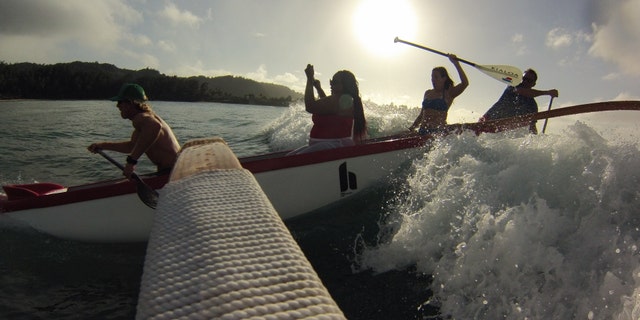 O'ahu
Hawaiians have been using outrigger canoes to travel between the islands for ages. These days, tourists use them for fun, to spot marine life and catch waves. Surfing up waves in an outrigger canoe bumps up the fun factor of a typical canoe ride. How does it work? Your guide will select the best waves and position the canoe. When it's time, you'll paddle hard and all of a sudden, you'll be cruising a wave. Take it from the locals, the extra effort is worth it.
Hans Hedemann Surf School
Cost: Starts at $80 per person.

5. Kayak in the ocean along a 28-mile reef.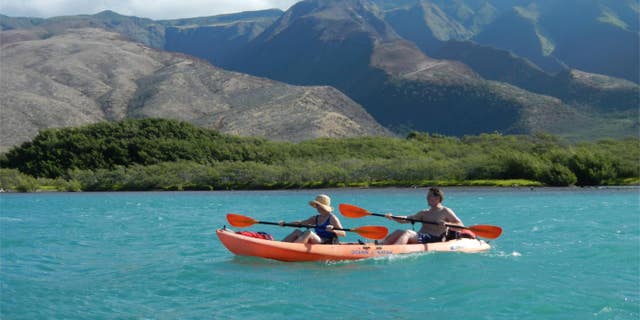 Moloka'i
Moloka'i has many natural wonders. The 28-mile fringing reef is definitely one of them. Take a kayak ride for some stunning photos and a great workout. Afterwards, grab the catch of the day at Hotel Moloka'i's beachside restaurant.
Moloka'i Outdoors Cost: $75 per person
6. Scuba dive with turtles and rays.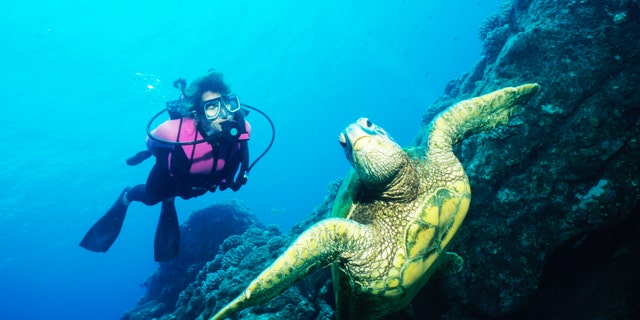 Moloka'i

Moloka'i gets about 60,000 visitors a year, and only a small portion of those people go diving. In other words, you're in for a pristine and photo-worthy treat. Be on the lookout for rare fish and coral. Chances are, you'll also spot green sea turtles, rays and whales (during the winter months).
Molokai Fish & Dive
Cost: $145 per person for the South Shore dive.

7. Bike your way around Lana'i.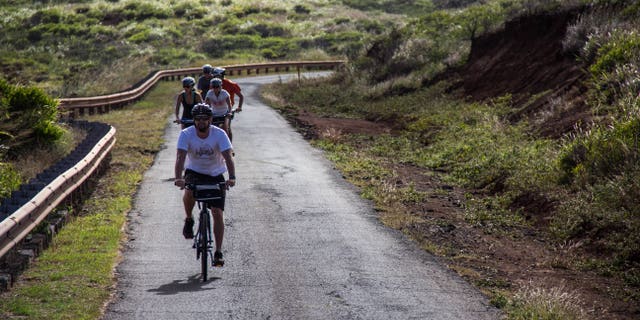 Lana'i
The ride begins about 2,000 feet above sea level at the top of Keomuku Highway, so bring your camera. Dreamy views include the Kalohi Channel and Maui just across the 'Au'au Channel. You'll get a snack break about halfway down, then you'll pass through historic Lana'i City, with shops and restaurants. After you pass by pineapple fields, take a breather-- you're journey is almost done.
Lana'i Cycles
Cost: $180 per person
8. Learn to kiteboard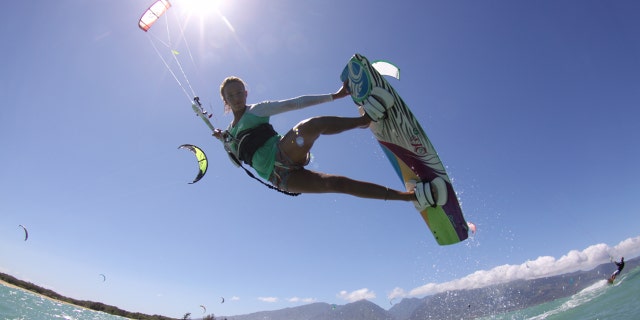 Maui
Whether you're a beginner or a pro, Maui is a great place for kiteboarding. The winds are legendary, so it makes sense that Maui is also Hawai'i's top windsurfing destination. Want proof? Head to Ho'okipa Beach to check out dozens of world-class windsurfers gliding on top of the waves. The winds here pummel through the isthmus and pump up some of the best windsurfing conditions in the world.
Kiteboarding School of Maui
Cost: $199 per person

9. Go SUPsquatching.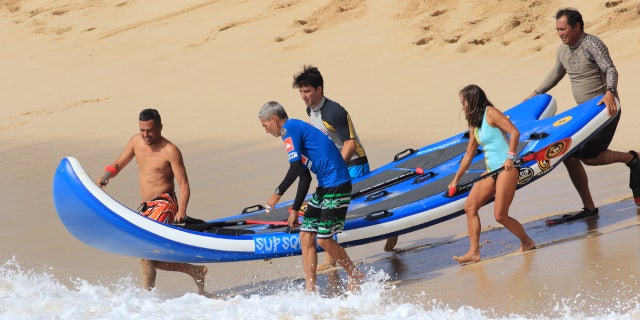 Kaua'i
Imagine hopping onto a giant surfboard with seven of your friends. That pretty much sums up SUPsquatching. Everyone piles onto a giant, inflatable standup paddleboard, and tries to catch waves. It's the ultimate balance challenge, and not to mention, a great workout. Plus, SUPsquach is pretty fun just to say. Once you get the hang of it, consider buying your own C4 Waterman SUpsquatch board.
Aloha Surf Lessons
Cost: $300 (need a group of six), seasonal depending on conditions