5 Ways to Travel the World Without Leaving the Country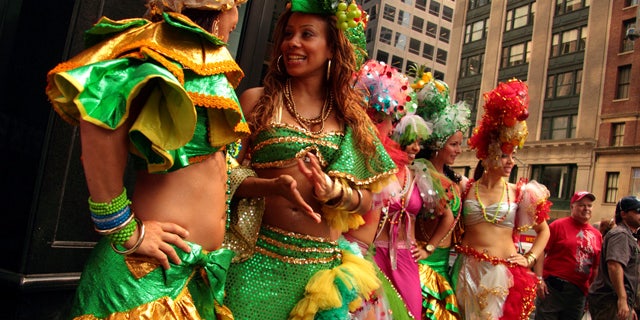 NEWYou can now listen to Fox News articles!
Looking for the perfect vacation getaway, but the economy has got you down?
Hotel and travel prices have increased significantly as the U.S. dollar continues to weaken. But that shouldn't stop you from planning your dream trip anywhere in the world.
Thanks to America's rich immigrant culture, those looking for a foreign adventure don't have to look further than their own backyards.
You can spend on $1,300 on round-trip ticket from New York to Sao Paulo, Brazil, or you can get a taste of the country on Little Brazil Street right next to Times Square in New York City.
Or perhaps you are simply looking to skip the stress of flying and going through airport security. Some of these locations could be just a drive away -- are worth the trip.
Either way, be sure to check out these five great "countries" to visit all in the U.S.
Little Brazil Street, New York, N.Y.
Right off of Times Square in Manhattan lies a home-away-from-home for many Brazilians on the East Coast. Dubbed "Little Brazil Street," West 46th Street between Fifth and Sixth Avenues really comes alive during the Soccer World Cup, the Brazilian equivalent of the Superbowl.
The next tournament isn't until July, 2014. But there are plenty of other events worth checking out.
In September is the annual Brazilian Day festival -- the largest Brazilian event outside of Brazil -- which draws thousands of party goers to its carnival-like atmosphere. But on any given day, the food it enough to draw you there.
For the real Brazilian dining experience, try Via Brasil, where you can sample the country's national dish, Feijoada Completa, a pork, bean and sausage stew. Also try a typical Brazilian cocktail, called a Caipirinha, made of fresh limes, sugar and the Brazilian liqueur cachaca. For churrasco style meat, cooked the traditional way on skewers over an open fire, try Churrascaria Tribeca.
And don't forget to bring an English-Portuguese dictionary, along with your appetite.
For more places to explore in NYC check out FoxNews.com's vacation guide >>
Holland, Mich. (Little Holland)
Get your wooden clogs out of the closet while visiting this Michigan town with a rich Dutch heritage. Don't own a pair? No problem. Make sure you visit the DeKlomp Wooden Shoe & Delft Factory where you can watch the wooden shoes being carved. Brush up on your Dutch history and visit the Historic Dutch Trade Fair at Windmill Island Gardens where kids will enjoy watching grain turn into flour in the typical Dutch fashion, via windmill. Kids will also love learning traditional Dutch dances and feeding farm animals at Nelis' Dutch Village.
For a slightly more adult activity, take a tour at the New Holland Brewing Company and Distillery for just $10 and $5 dollars respectively. And try to visit Holland during the Tulip Festival, when the town is in full bloom with well over 6 million tulips. The upcoming festival will be held from May 5-12, 2012.
Artesia, Calif. (Little India)
It's hard to believe that just 20 miles from Los Angeles lies America's own mini-Bombay. Visit the Swaminarayan Hindu temple for a dose of Indian culture, where visitors are always welcome and it is open daily. Cool off at the Saffron Spot with ice cream flavors with an Indian spin, such as banana cardamom, lychee and Rajbhog (Saffron, Pistachios, Cashews, Almonds and Cardamom). And who could leave India (well in this case, Little India) without buying their own sari? Check out Mirage or the India Sari Palace to pick out your own Indian garb.
Tarpon Springs, Fla. (Greektown)
Dying for some authentic Moussaka? Visit Tarpon Springs, Florida, home to the largest Greek-American population in the U.S. The first wave of Greek immigrants flocked to the town in 1880 and showed the growing natural sponge harvesting industry how it was done in Greece. Now known for its world-class natural sponges (they make great loofahs), tourists watching professional divers harvest sponge at the St. Nicholas Boat Line tours. But the best way to get a real taste of Greece is to wander the streets of Dodecanese Boulevard and try out the many different restaurants serving traditional Greek food like souvlaki and gyros. Food lovers should also check out the farmers markets for the best Kalamata olives. Before you go, make sure to brush up on your Greek, as many of the older residents regularly converse in their native tongue.
Little Italy, San Diego, Calif.
When you think of little Italy, you typically think of New York or Boston. But Little Italy in San Diego, Calif. is as good as it gets. Check out the neighborhood's many authentic Italian restaurants such as Filippi's Pizza Filippi's Pizza Grotto and Little Italy Spaghetteria.
Be sure to attend the Little Italy FESTA! (October 9, 2011) for live cooking demonstration, concerts, Gesso Italiano chalk art and the Italian Motor Sports Exhibit.
Don't worry if you can't make it to the festival. Every Saturday the town is home to the Little Italy Mercato with over 100 booths selling Italian goodies.
Little Italy will have you never wanting to say, "Arrivederci!"
For San Diego travel tips, visit FoxNews.com's vacation guide >>
You don't have to leave the country to visit beautiful sites. Send us photos of your favorite U.S. landmark -- and we may feature them on-air!