13 beautiful natural swimming holes around the U.S.
It's almost summer, and we'll bet you want to go swimming. Lucky you, we found natural spots—gentle waterfalls, deep swimming holes, lazy rivers—where you can relax with a dip.
1. JOHNSON'S SHUT-INS STATE PARK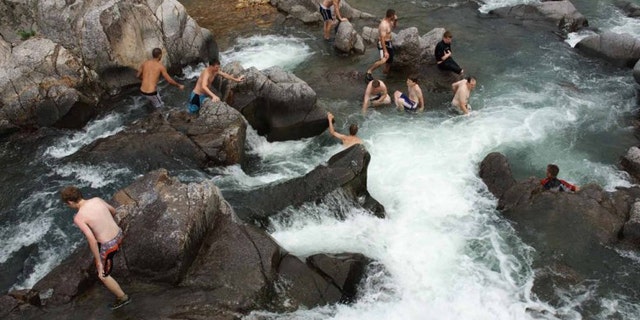 Middlebrook, Missouri
An outdoor area that's all about shut-ins? The "shut-ins" in question are the areas where the Black River's flow is blocked by ages-old volcanic stone, resulting in a collection of small pools that make for thrilling travels as you move from one eddy to the next.
2. CHENA HOT SPRINGS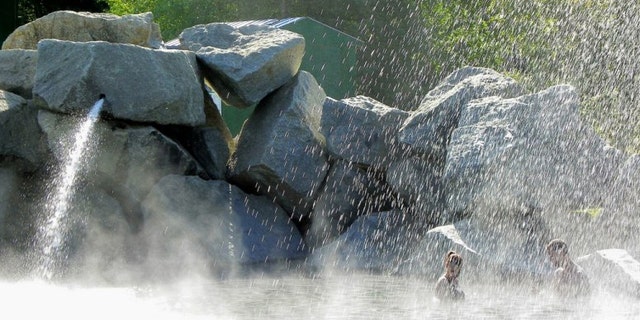 Fairbanks, Alaska
For more than a century, visitors have been flocking to the springs to bask in the healing powers of its mineral-rich waters (and gaze at the unobstructed Aurora Borealis views that are visible 200 nights per year). If you're in need of a cooling-off period following your dip, take a tour of the on-site Aurora Ice Museum, the world's largest year-round ice museum, which keeps its shape by maintaining a 20-degree temperature at all times.
3. BLANCHARD SPRINGS CAVERNS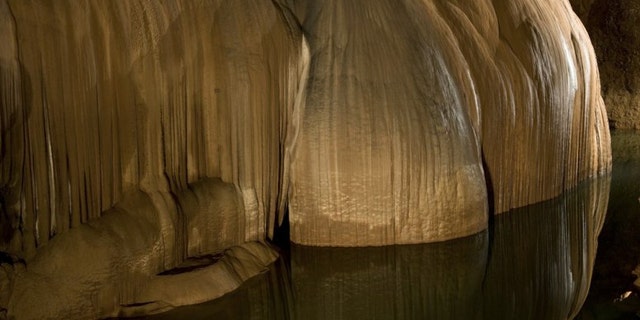 Fifty Six, Arkansas
Often referred to as "living caves" because they tend to change and grow, the Caverns are a three-level cave system in the Ozark National Forest. The caves' average temperature of about 58 degrees will keep you cool during the hot months. Or you could take a dip: One of the state's best-known swimming holes just happens to be in the Blanchard Springs Recreation Area.
4. BRIDAL VEIL FALLS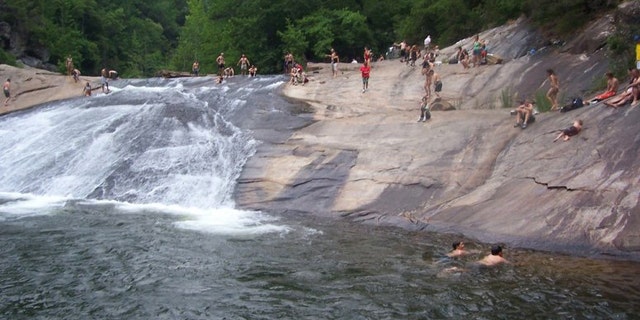 Tallulah Gorge State Park, Georgia
Second only to the Grand Canyon in depth, Tallulah Gorge houses enough waterfalls—Bridal Veil Falls among them—to have earned it the nickname "Niagara of the South." Even from a short distance, it's easy to see where this popular swimming hole gets its name; white waters cascade down the falls' gently sloping face of rock to resemble the wedding wear in question
5. ST. ANTHONY SANDBAR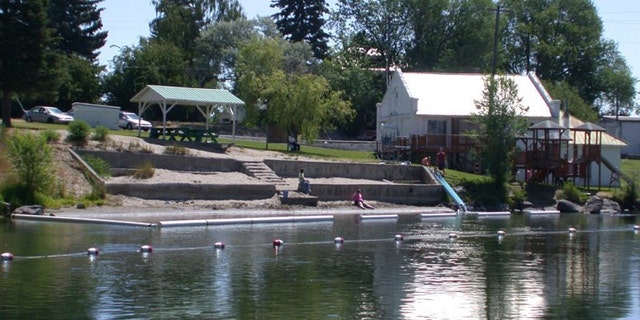 St. Anthony, Idaho
For more than six decades, locals and visitors have whiled away summer days at this swimming hole that features a floating dock, diving board, and old-fashioned metal water slide.
6. WHITE ROCK PARK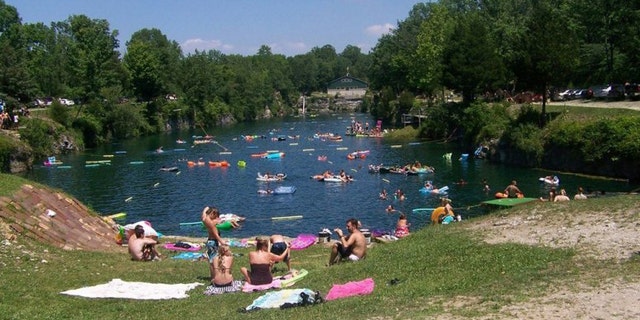 St. Paul, Indiana
Adventure-seeking water fiends can find plenty of diversions at this three-quarry water hole. When a simple dunk just won't cut it, there's high diving from three platforms (the highest of which is 10 meters), scuba diving, rope swinging, and zip lining to keep you busy.
7. BIG HOLLOW RECREATION AREA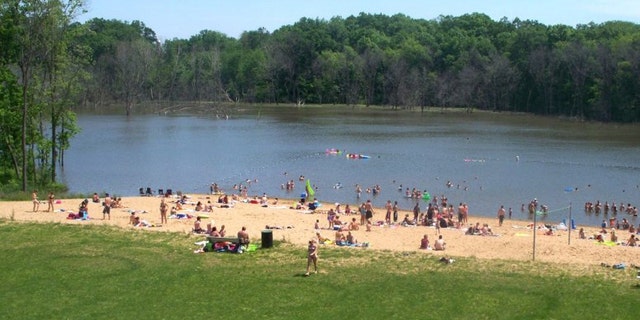 West Burlington, Iowa
One of the most popular outdoor destinations in the Des Moines area, the Big Hollow Recreation Area boasts four shooting ranges, an astronomy observatory, a 3-D archery course, a model airplane field, and plenty of water activities. Boating, canoeing, and fishing are all on the menu at the nearly 200-acre lake, but a roped-off swimming area sees plenty of action in the summer months, too.
8. CLINTON LAKE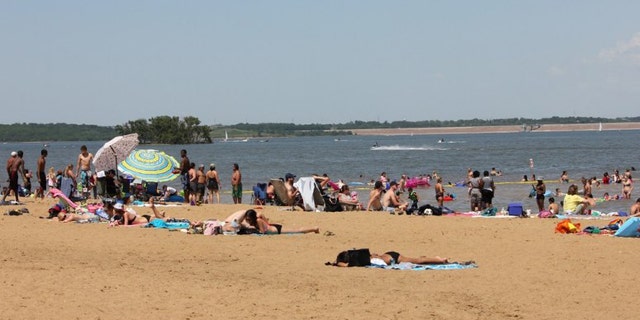 Lawrence, Kansas
With 16 boat ramps, eight docks, regularly stocked fishing ponds, and some of the state's most crystal-clear waters, there's never a dull moment at Clinton Lake. For those more keen on simply cooling off, the lake—part of Clinton State Park—offers a sandy beach and swimming area, too.
9. PLATTE RIVER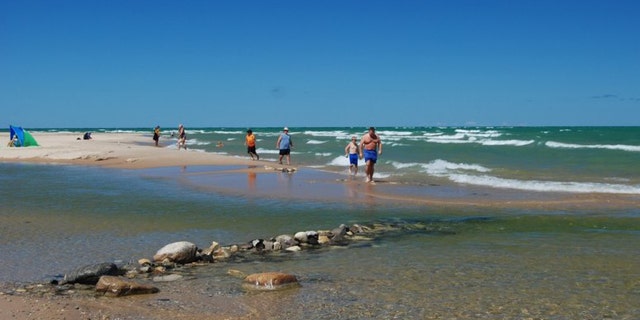 Empire, Michigan
Some might consider it cheat—or counterintuitive—to recommend a swimming anywhere besides Lake Michigan in the midst of the beach-filled Sleeping Bear Dunes National Lakeshore. But this shallow river, which cuts through woods and sand dunes before emptying into Lake Michigan, offers new adventures with each visit. In fact, Platte Point Beach—the point where the river flows into the lake—is one of the highlights of this near-30 mile body of water. The best way to see it all is to meander for miles, taking quick dips when the mood (or water) strikes you.
10. BOILING RIVER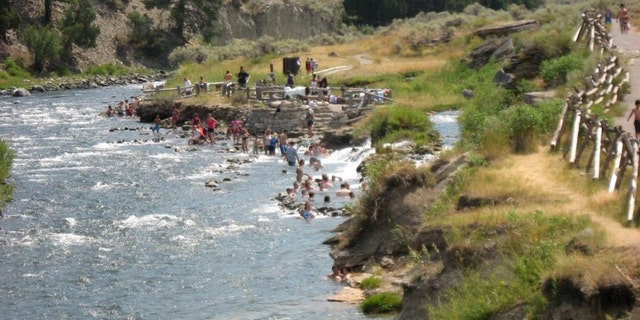 Gardiner, Montana
An easy hike along the western bank of the Gardiner River—on a 45th-parallel trail that lies halfway between the equator and the North Pole—leads you to Boiling River, one of only two safe (and legal) places to soak in Yellowstone National Park. It's here that the opposing temperatures of the Gardiner River and Mammoth Hot Springs mix to create a perfectly stress-reducing temperature.
11. THE BLUE HOLE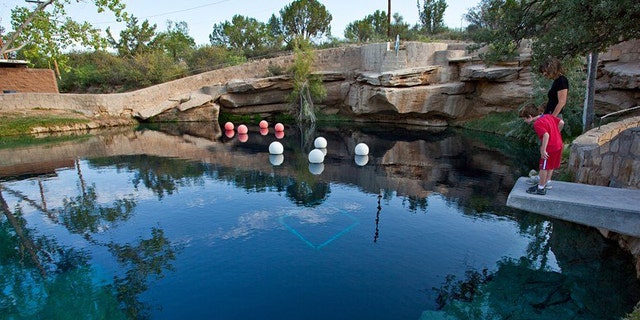 Santa Rosa, New Mexico
Santa Rosa, New Mexico owes a large part of its designation as "The Scuba Diving Capital of the Southwest" to The Blue Hole, an 80-foot-deep natural artesian spring that—at 64 degrees—allows for year-round diving. Witness the wonder of this bell-shaped swimming hole that measures 80 feet in diameter at the top but extends to 130 feet at the bottom.
12. ROBERT H. TREMAN STATE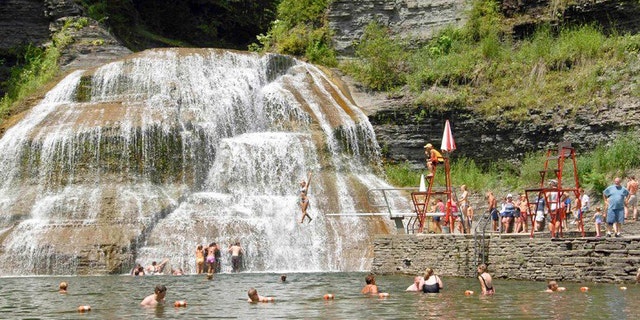 Ithaca, New York
This upstate New York park is a place of geological wonders and rugged beauty, with miles upon miles of hiking trails, a scenic gorge known as Enfield Glen and a dozen natural waterfalls—one of which you can swim up under in the park's designated, stream-fed swimming area.
13. CUMMINS FALLS STATE PARK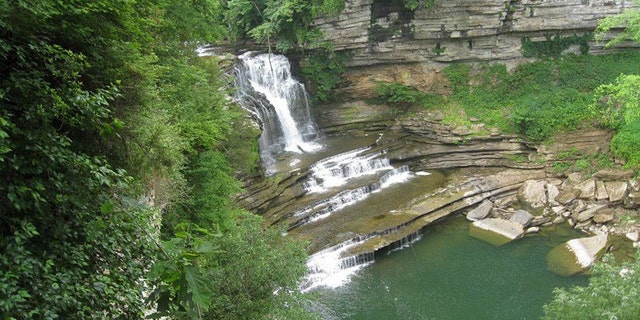 Cookeville, Tennessee
It often seems that the very best swimming holes can be difficult to reach. This is one example recently named a Tennessee state park (the first inductee in 14 years), this 200-acre outdoor sanctuary has plenty to offer in the way of water activities, most notably the 75-foot namesake waterfall that cascades into a 100-year old swimming hole.
See more swimming holes at Condé Nast Traveler
More from Condé Nast Traveler
Amazing Waterfalls Around the World