Gutfeld on media's fawning coverage of Kim Jong Un's sister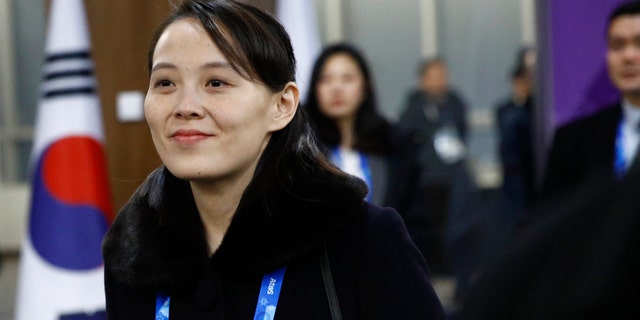 NEWYou can now listen to Fox News articles!
Some media outlets are getting heat for comments regarding North Korea and Kim's little sister at the Olympics.
The New York Times headline reads "Kim Jong-un's sister turns on the charm, taking Pence's spotlight." CNN says "If 'diplomatic dance' were an event at the winter Olympics, Kim Jong-un's younger sister would be favored to win gold." Barf. I don't know what's worse, the cheery lede about a murderous regime or that lame joke you could see limping towards you a mile away. Yahoo News wrote: "All swagger and smiles, Kim Jong-un's mysterious sister gets her star turn. " What is this, the red carpet at the Grammys? I can't believe they left out who she was wearing -- literally.
As for North Korea cheering section, NBC tweeted it was "so satisfying to watch," neglecting to point out that the option to not cheering is execution. Then, there is "The View":
(BEGIN VIDEO CLIP)
WHOOPI GOLDBERG, CO-HOST OF 'THE VIEW': Was this the place to make that statement? Or he just forget to get up or.
SUNNY HOSTIN, CO-HOST OF 'THE VIEW': I thought that Mike Pence said that it was inappropriate to make political statements at sporting events.
(APPLAUSE)
HOSTIN: Wasn't he that guy who walked out of the football game because people were kneeling and not standing?
GOLDBERG: If you're in Korea, you need to stand up. You need to stand up and show respect.
(END VIDEO CLIP)
Pence didn't stand up. Now, you know you're a lefty if you think it's heroic to kneel for our national anthem but evil if you sit for our adversaries. It's funny that they're called The View, yet they're so blind.
So why does the media praise a country that's so bad to its people? It's what they do. The USSR was portrayed lovingly by useful idiots for decades, same thing with Castro's Cuba and Venezuela. But I wonder, after all these glowing reviews from our media, just how nervous is Kim's sister right now? Does she really want to be more popular than him? Get a look at her now. It might be the last time you see her.