With Android phones, the future's on hold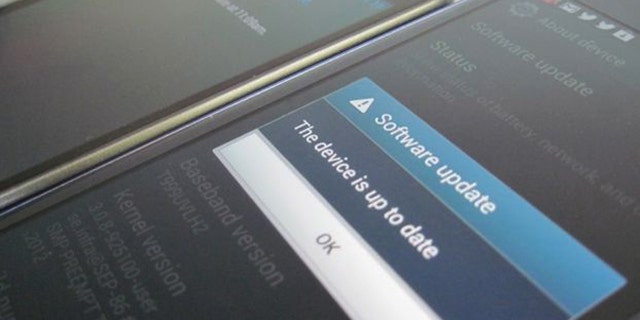 Is the problem of users being denied the performance, stability and feature improvements of newer Android versions as bad as some say?
To put numbers on it, I checked with the four major nationwide carriers to see which of their current Android phones ship with the two most recent releases of Google's operating system: the 4.0 Ice Cream Sandwich edition that arrived last fall, and the 4.1 Jelly Bean version that debuted in late June.
ANALYSIS: Google Demos 'Glass' With Crazy Sky Diving Stunt
AT&T Wireless has yet to carry any Jelly Bean phones. It sells five with Ice Cream Sandwich: the HTC One X, Samsung's Galaxy S II Skyrocket and Galaxy S III, the LG Escape and the Pantech Flex. Ten others run the 2.3 Gingerbread version delivered in late 2010.
Eight of those Gingerbread models (the Pantech Burst, the LG Nitro HD, the HTC Vivid, the Motorola Atrix HD, the Sony Xperia Ion and Samsung's Galaxy Exhilarate, Galaxy Note, and Captivate Glide) have "ICS" updates you can download. But AT&T's site doesn't spell that out.
At Sprint, only the aging Galaxy Nexus ships with Jelly Bean. Four (Samsung's Galaxy Victory, Galaxy S II Epic and Galaxy S III; the Kyocera Rise; the HTC Evo 4G LTE; and the Motorola Photon Q 4G LTE) feature Ice Cream Sandwich. Of those, Sprint has announced an ICS update for the Galaxy S III but not a due date. Eight others run Gingerbread.
T-Mobile doesn't sell any Jelly Bean phones yet. Of its Ice Cream Sandwich models (the HTC One S and Samsung's Galaxy S Relay 4G and Galaxy S III), the One S and the S III have Jelly Bean updates promised without a due date. Another eight models come with Gingerbread.
Poking around T-Mobile's site reveals ICS downloads for three of those eight: Samsung's Galaxy S Blaze, Galaxy S II and Galaxy Exhibit.
At Verizon Wireless, only the Galaxy Nexus runs Jelly Bean. Eight other phones ship with ICS: Motorola's Droid Razr M, Droid 4 and Droid Razr Maxx; Samsung's Galaxy S III and Galaxy Stellar; HTC's Rezound and Droid Incredible 4G LTE; LG's Intuition; and the Pantech Marauder. Verizon says it will ship Jelly Bean for the Razr M by the end of the year and, later, for the Galaxy S III. Another eight models ship with Gingerbread.
ANALYSIS: Google Late to the Game and it Shows
That's ugly. And it doesn't help that the carriers' sites don't specify which phones have downloadable updates ready or promised. (For ICS updates, see the list maintained by Computerworld's JR Raphael.) I don't know how a busy, distracted shopper should deal with this uncertainty except to buy a Google-anointed Nexus model, which should get updates faster and more predictably.
I don't know how I should either. As an in-contract Sprint customer, I could get the Android model I liked most this summer, the Evo 4G LTE, but it still has no Jelly Bean update announced. (Buying an iPhone 5 would leave me waiting for a decent navigation solution -- and using software that I find clumsier at organizing apps and notifying me of pending info.)
So instead, I took the unlocked Galaxy Nexus loaned to me at Google's I/O conference in June, bought a prepaid SIM card at T-Mobile's site and put its crazy-affordable $30/month plan on that.
That's working okay for now. But how long am I going to carry two phones and pay two bills before I get a decent choice of new phones running the current release of the operating system I like?