Wearable device taps tech to battle opioid addiction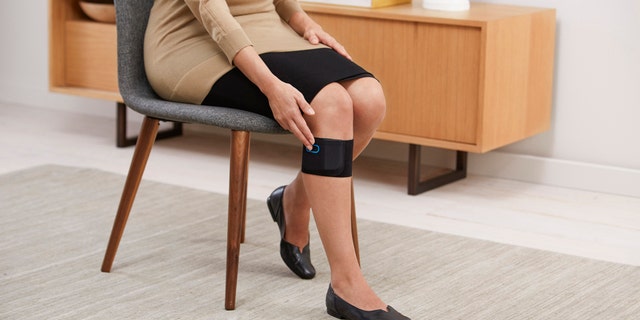 A Massachusetts company is touting a wearable device that it says can alleviate chronic pain, offering a high-tech alternative to opioids.
Quell is a drug-free device built by Waltham, Mass.-based NeuroMetrix. The wearable, which is worn on the calf, is designed to block chronic pain, according to the company's CEO Dr. Shai Gozani. "[The] technology stimulates the sensory nerves in your calf sending neural pulses to your brain, that trigger the release of your body's natural pain blockers called enkephalins," he told Fox News via email. "Quell was designed for multiple types and sources of chronic pain like back pain, arthritic pain, leg and foot pain, among others."
The system, which was launched in 2015, comprises a rechargeable neurostimulator that is worn in a neoprene band. Users, however, must also purchase disposable electrodes that work with the neurostimulator. Each electrode lasts two weeks, according to the company.
Quell has been cleared by the FDA for use during the day while active, or at night while sleeping, and can also be personalized using a Quell app, Gozani said. The app lets users calibrate their devices and adjust the intensity of their therapy sessions from their phones or tablets.
GOOGLE TAPS TECH TO BATTLE OPIOID CRISIS
The Quell Starter Kit, which includes the device, wearable band, charging equipment and 1-month supply of electrodes, is priced at $249. A 1-month supply of electrodes is $29.95.
Gozani told Fox News that the technology could be a useful tool in the battle against opioid addiction, citing estimates that three quarters of Americans are not taking medications as directed. "One of the biggest challenges for any medical intervention is patient adherence," he said. "We have invested significant research and design attention to building the habit of daily usage with improvements to the Quell Device and App that will launch this fall."
The company says that additional product news will be coming soon.
This is not the first time that technology has been used in an attempt to tackle the opioid crisis.
KENTUCKY MIDDLE SCHOOLERS DESIGN 3D-PRINTED DEVICE TO HELP FIGHT OPIOID CRISIS
For National Prescription Drug Take Back Day on April 28, Google worked with the U.S. Drug Enforcement Administration to develop a Google Maps tool to help people get rid of medicines they no longer need.
Additionally, a group of Kentucky middle schoolers won a prestigious award for developing an ingenious device that lets first responders to safely collect hazardous needles left behind by opioid and other drug users.
The students from Ashland Middle School in Ashland, KY. are one of the national winners of Samsung's Solve for Tomorrow contest, which promotes Science, Technology, Engineering, Art and Math (STEAM).
Follow James Rogers on Twitter @jamesjrogers