Vice News' homepage urges readers to vote: 'The internet can wait'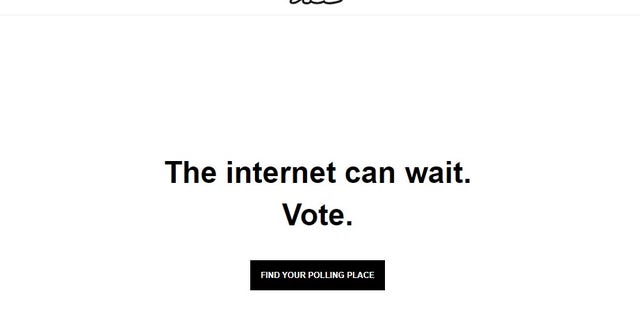 Vice News is asking its asked readers to get off the web and go vote in the 2018 midterm elections.
When navigating to the news outlet's website, its homepage page redirects to a stark white page with a statement reading, "The internet can wait. Vote."
VOTING MACHINES CAN BE HACKED IN TWO MINUTES, EXPERT WARNS
Underneath the words, users can click a link to help them find their polling place. In smaller lettering at the bottom of the page, it reads, "I've already voted. Take me to the site."
The website's Twitter page also asks users to tweet at them if they had problems voting Tuesday.
MIDTERM MOVERS: UBER AND LYFT OFFER VOTERS DISCOUNTED RIDES TO THE POLLS
Like Vice News, other companies have pledged to help voters.
A group calling itself "Pizza to the Polls" said it would be sending out pizza to polling locations across the country for those waiting in line to vote. Uber and Lyft have offered voters discounted rides to polling stations on Tuesday.
Fox News' Michael Bartiromo and James Rogers contributed to this report.